Filming During a Pandemic: A Deeper Look Into the Production of Grey's Anatomy, Season 17
COVID-19 has drastically affected the lives of all individuals in every way, shape, and form. Among those facing challenges are the world's biggest industries, including the film industry. The film industry has taken a major hit from COVID-19, affecting the filming and production of all shows, movies, and more.
Due to the virus' high-risk, shooting days for productions have gotten numerous extensions, and sets must be equipped with safety precautions per the CDC guidelines. Individuals must also test negative for COVID-19 before they are allowed to come in contact with anyone on set, and must continue to test negative every few days. Cast and crew members must also isolate themselves throughout the entirety of filming. On many sets, 10% or more of every production budget is spent strictly on new and necessary safety measures.
As a result of general and necessary precautions followed on set, as well as the severity and importance of the pandemic everywhere, some shows and movies have even made the decision to incorporate the virus into their scripts.
ABC's Grey's Anatomy made the decision to include the pandemic in their show and inspired many others to also pursue a COVID-19 plotline. Television's longest-running medical drama has adopted the pandemic into its storyline during the show's seventeenth season. It seems only fitting for Grey's to address the pandemic, not to glorify it, but to convey the drastic reality frontline workers face every day.
"This pandemic is the single-biggest medical story of our time and likely a permanent game-changer as to how we practice medicine and how we look at the world," said Zoanne Clack, doctor and executive writer for the series. "We felt compelled to tell the stories of loneliness, fear and bravery that our health care workers and the patients are going through."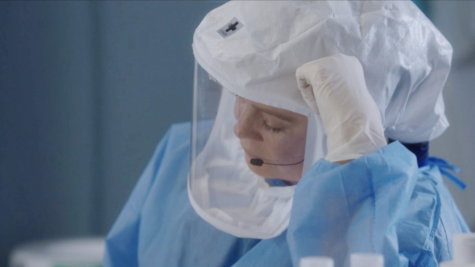 Behind the scenes, protocol on Grey's is similar to that on many other sets: masks, visors, and social distancing are required, and all staff and cast members are tested for COVID-19 three times a week. In the writing room, scripts are produced at a slower pace due to social distancing restrictions. Even the cameras on set have special lenses to make the actors look closer together when they must distance themselves. The set has also implemented zones to separate all staff members, with actors divided into pods based on risk of exposure.
On screen, the show's medical advisory team guides the staff on set to most accurately portray the dramatic reality most doctors and ICU staff are faced with every day. Doctors can be seen wearing masks at all times, and are seen wearing PPE, or personal protective equipment, when in the ICU and treating COVID-19 patients. This includes wearing protective gowns, oxygen tanks, and PAPR, or Powered Air Purifying Respirators, which are helmet-like face shields that purify and provide oxygen to doctors. All of this equipment is used by doctors across the country amidst the pandemic.
The global film industry is among all individuals and businesses who have been affected by the pandemic. As we all take our own precautions to keep ourselves, our families, and the people around us safe, production companies take similar precautions to protect their cast and crews, while honoring the frontline workers who have faced COVID-19 firsthand.
Leave a Comment
About the Contributor
Eva Nichter, News Editor
Eva Nichter is a senior at NDB and is one of the News Editors for the Catalyst. This is her third year as a student writer for the newspaper. In addition...