Shadows and the admissions process during COVID-19
This year, the incoming freshmen have been attending their shadow days online. They normally would be on campus with a shadow host, going from class to class and exploring the campuses. It looks a lot different than it normally would, but schools around the Bay Area are doing their best to adapt and make the best out of a less-than-ideal situation.
Each student is looking at different schools and are considering different factors that they find are helpful in deciding which schools they like better.
"I think how they decided to go about educating people during the pandemic is like really an insight into how they would teach in person as well, like how they are handling these types of situations," said incoming freshman Sara Muzzi. "So, if they have a good schedule and a good plan for distance learning, then that would definitely be a key factor in my decision."
There are some benefits to shadowing online because it gives prospective students a chance to observe what the teachers are like and how they are handling teaching during the pandemic. They see shadowing online as an opportunity to analyze how each teacher is dealing with the obvious obstacles faced this year.
"You see how the teachers are like communicating with the kids and if the students feel comfortable like sharing into the class and things like that," said fellow incoming freshman Lila Hong, "You can really see the different connections or relationships the teachers have with their students."
Shadowing via Zoom is difficult but Hong brought some light onto the situation, saying, "In a way shadowing online was better because teachers are aware that the kids are already struggling to pay attention on Zoom so they made things a bit more engaging and fun."
So many changes have had to be made this year, which includes the shadow days. Everyone is doing their best to adjust and the incoming freshmen are able to enjoy the shadowing experience despite the modifications that had to be made.
Leave a Comment
About the Contributor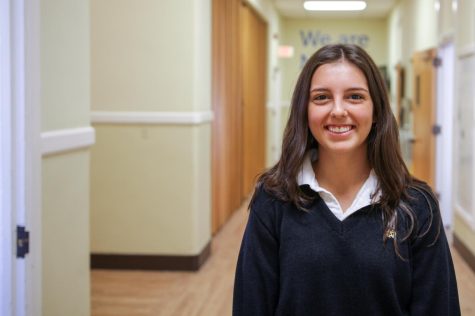 Mia Muzzi, Managing Editor
Mia Muzzi is a junior at NDB and is the Managing Editor for The Catalyst. She spent her freshman year as a Staff Writer, then during her sophomore year...