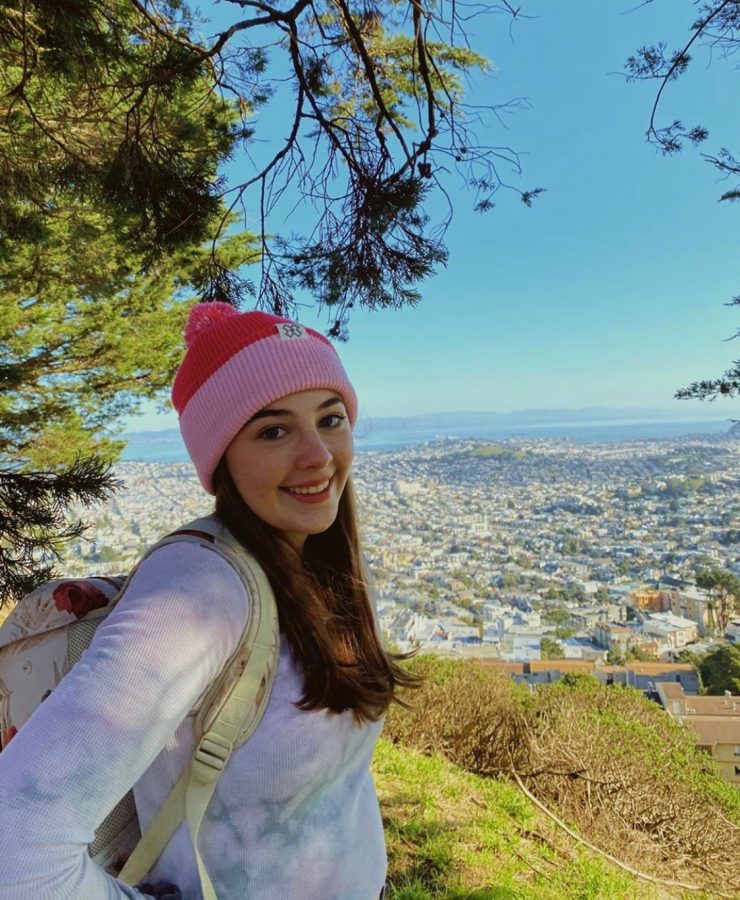 The Catalyst / Photo courtesy of Jillian Pace
Jillian Pace, senior at Saint Francis High School
Since many schools have closed due to the coronavirus pandemic, many high school students are going to school online in what is called distance learning. Some of them communicate with their teachers via email or websites, like gClassroom and Schoology. Others participate in online classrooms via video conferencing apps, like Google Hangouts and Zoom. The Catalyst interviewed Jillian Pace, a senior at Saint Francis High School in Mountain View, about her experiences going to school online.
The Catalyst (TC): What is a typical day of school like for you?
Jillian Pace (JP): I've been trying to wake up at 7:00 a.m. each morning. I put on sweats, go eat breakfast and brush my teeth, then sit on my phone until around 8:30/9:00 a.m. Around that time, I check Schoology and write down all of my assignments for that day, although almost everything is due on Friday's. Then, I just try to do the assignments one at a time in order of what's due the soonest or what will take the longest time to complete. I don't have more than one Zoom call per day  – pretty much one class per day – and they are almost all optional. It's used as a collaboration time where you can ask your teachers questions if you have any or just drop in to say, "Hi." Usually, I try to complete assignments before the Zoom call for that class, so that I actually have questions to ask and know what's going on. Sometime between 12:00 and 1:00 p.m., I eat lunch and then continue to get assignments done until 3:00, 4:00, 5:00 pm, depending on how productive I've been that day and what's due when. After most of my stuff is done for that day, I'll play some board or card games with my mom, while we watch a movie. 
TC: How are you coping with shelter in place and keeping in touch with your friends?
JP: Right now, I'm trying to check-in with a lot of my friends that I don't happen to talk to or text a whole lot outside of school. I've become more aware of how much closer I am to my friends that I don't go to school with, like some of the lovely girls at Notre Dame. Weirdly, I think it's easier to stay in touch with those friends because I hang out with them a lot more on weekends, and we just have more to talk about because we don't really get to share anything new with our lives at school. I've also been able to stay in touch a lot more with all of my siblings. They're all moved out now, so I don't see really them, aside from holidays and summer, so all this time off is making it really easy to talk to them more. 
TC: How has this personally impacted your school year?  Was anything that you were really looking forward to canceled?
JP: At first, I was really worried about prom, graduation, and grad night being canceled, and I still am pretty sad about it because there is a high chance those huge events could be canceled. But, I think I'm getting more upset about the small events I know our class will probably miss.
Our school has this huge assembly at the end of each year where all of the seniors show up in all of their college gear and the whole school watches a collage of videos and pictures of the senior class throughout their years in high school and the administration just talks about the graduating class, and I honestly might be sadder about missing those events.
I know that prom and graduation and grad night are such big events that high schools will probably do something to make up for or replace them. But, what about meeting with our Kairos groups for just one last time before we all go off to college? What about touring all of the colleges we got into, so we can figure out where we want to go? There are so many of these small events that are so important to the seniors that we don't want to miss, but because they aren't big events like prom and graduation, I know they probably won't get compensated for and I just think I'm just more upset about missing out on that.