Students rethink Spring break plans
Spring break: a time all NDB students use to relax, escape from schoolwork, and vacation before finals and AP exams. Spring break 2020, however, looks like it will be turning out a bit differently. COVID-19 (the novel coronavirus) has become a global pandemic, affecting air travel, food supply, and store closures, amongst other things. Therefore, any vacationing that NDB students have planned has been canceled, meaning that most will be spending their Spring breaks at home instead of out-and-about. 
"I was originally going on college tours during Spring break," said NDB Junior Sachi Bopardikar. "Unfortunately I can't go anymore because one of the tours was going to be in Washington, a place with a huge outbreak of the virus. Travelling in general is not such a great idea right now anyways." 
Spring break is also a very common time for Seniors to look at prospective colleges before they make their final decision on where they want to attend. Colleges like Cal Poly San Luis Obispo, USC (Los Angeles), and schools in the University of California System were major Spring break destinations, but the majority of those visits have been cancelled now. 
"My original plans were to celebrate my birthday with family and friends, and take college tours if I needed to," said NDB Senior Abiya Baqai. "However, college tours are generally cancelled, so I will not be able to do that. I also hope the quarantine is lifted once my birthday comes around, so I can do something to celebrate it."
For lower classmen, college tours may not have been on their agendas, but even more low-key and plans and vacations that they were going to take are being cancelled because of the coronavirus. 
"I honestly did not have any plans for Spring Break besides hanging out with my friends," said NDB Freshman Kaitlyn Bjorkquist. "But now because of the outbreak, there are not really any places that I could be with my friends. A lot of parents, including my own, do not want their kids leaving the house that much or getting together with their friends in groups." 
NDB Sophomore Betsy Frew shared that her parents have reacted to the spread of the Coronavirus in a similar way. 
"For Spring break, I was going to go to Yosemite, then have my 16th birthday party either as a get-together with my friends or by spending a day in San Francisco," said Frew. "We can no longer go to Yosemite, and as it looks with the shelter-in-place and my parents being crazy about the coronavirus, I do not know if I will even be able to have a party anymore."
School-organized trips that were supposed to take place over Spring break such as the Tri-School voyage to Germany, Austria and Switzerland have been postponed to Spring break 2021. Spring Break 2020 will be a disappointing period for NDB students before we return to school and prepare for finals season. 
About the Writer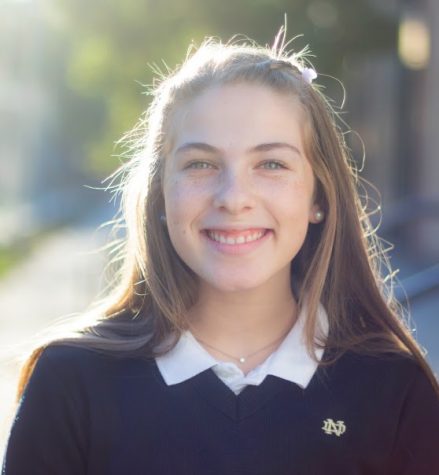 Amelia Kyle, Editor-in-Chief
Amelia has been a member of The Catalyst staff since 2018. She served as the co-editor of the Arts & Life section from 2018-2019, Managing Editor from...