Multi-sport athletes prepare for upcoming spring sports season
There are many student athletes who participate in more than one sport. This is especially clear with the limited amount of people in attendance at spring sports tryouts.
The two winter sports at NDB are soccer and basketball, and many girls on one of the two teams also participate in a spring sport, such as softball, swim, beach volleyball, lacrosse, or track.
The question is, does the overlap of the sports negatively impact the athletes, the sport, the team, or all of the above?
Senior Bella Evans plays both softball and soccer at NDB, with softball practices starting the day after soccer ends.
Evans admits that this presents a challenge, telling the Catalyst, "It's actually really hard when sports overlap because I do not get a break, and I fear I am missing out of part of softball."
This year, softball began tryouts on January 31, and at that point, soccer still had over five games left and its off-season.
Sophomore Julia Granucci says she has a hard time transitioning between sports and creating the bonds with new teammates.
She said, "Having the overlap between soccer and track makes it much harder for me to bond with new teammates and get prepared for the track season."
Having a strong relationship with your teammates is critical for a successful season, so without the ability to bond it creates a challenge for the track team.
Senior Alex Gatt reflects on how the overlap can affect not only her performance, but her teams as well.
She said, "I do think coming later does affect how I and my relay team performs. The three other girls [in the relay] also play winter sports, so we can't train until we are all out there, which is about three to four weeks into the season."
Gatt continued. "Other teams have girls who are run year round, but we do not have that luxury. Despite this, we all want to be the best so we know how to get into that mindset, no matter the time."
It is clear that the overlap has an impact on the athlete, but it can also affect the team. It is what the team and athlete make of the situation.
For senior Grace Earley, being late to track due to soccer season makes her push harder.
She says, "I've found that this [participating in soccer and track] has pushed me to maximize my time in track and work harder since I miss the beginning."
NDB student-athletes make being a back-to-back athlete work because they are passionate about their sports.
Gatt says, "Although back to back sports can be tough, I am so blessed to be able to play both and would not change it for the world."
About the Writers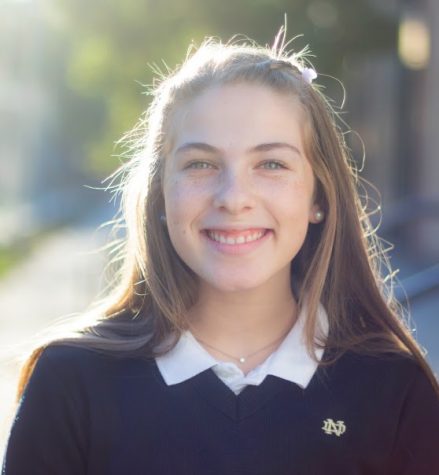 Amelia Kyle, Editor-in-Chief
Amelia has been a member of The Catalyst staff since 2018. She served as the co-editor of the Arts & Life section from 2018-2019, Managing Editor from...