On August 25, former President Donald Trump was taken into custody in Georgia following his fourth indictment in less than five months. Along with his containment, 18 other defendants face similar charges, including fraud over the 2020 election, which has served as a topic of conversation amongst members of both political parties. These discussions over the validity of his arrest have sparked debate over his ability to lead or even run for presidency.
The story has been discussed on almost every news channel, and reporters scramble to capture the history taking place. Students in history classes are often invited to share current events, and Trump's impending trial is certainly making headlines. While politicians have been outspoken upon this matter, what do the Tigers think?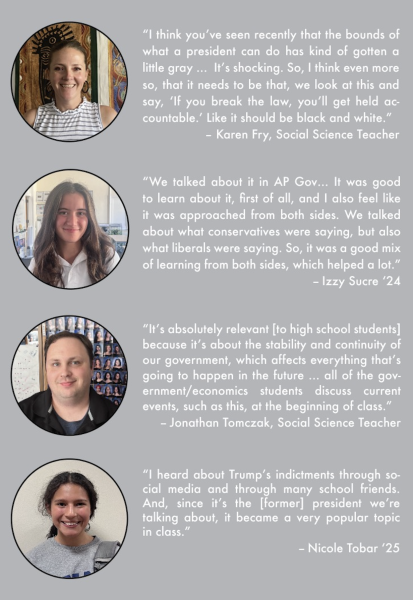 Whether the arrest is even on students' radars is a question unanswered. Not yet with the responsibility of a vote, but at a crucial age for researching political leadership, high school students are bound to take different perspectives and opinions on the event. At this young age, they can be easily persuaded, naively playing into the ever-changing opinions is the media which is intaken. A particular news source and even parents' words can shift an opinion without one knowing.
Amongst this year's senior class are future voters of the 2024 presidential election. In this age of false news and hearsay, it is more than ever evident that the internet holds much power over Generation Z. As the divide continues to widen in the political spectrum, high schoolers have the ability to lessen the gap by standing by the facts. Only, it seems that the ability to even uncover the truth is made difficult with biases hidden in the media which is intaken.
Social media has played into students' perceptions of matters such as this. Many students intake their information from social media posts. News can be shared in the form of memes and even informational TikToks. Whether the report had appeared on an explore page or in a well-established publication, learning to research and gather evidence will benefit one's opinion on such an event.
In situations such as this, required core classes like U.S. History and Government can provide a necessary platform of education which benefits Tigers. NDB's own teachers serve as an available resource when seeking out our government's functions and even advice on how to approach this event.
As upcoming voters decide for themselves truth from lies, campaigns are already appealing to this younger generation. Following its public release, Trump is already riding out the fame from his arrest by promoting merchandise featuring his mugshot. Many supporters have been seen wearing mentioned items at rallies and other campaign events. In the midst of the outroar, his campaign managed to gain attention and turn the criticism into publicity.
This event has never been seen before in the history of the United States. Not only does this mean that Tigers are involved in the making of history, but also a time of uncertainty. Students feel lost over the topic, unsure of how the election will be affected and if Trump's campaign to run is lawful.