YES: You get what you pay for … and more: Ashley Turner
Music festivals check all the boxes if you want to experience the best musical experience of your life. As a two-time attendee of Outside Lands, I can truly attest that the money that I spent on it was by far worth it.
Initially, the price of admission seemed outrageous. I could not fathom how a ticket could cost more than $500.00. However, if you think logistically, the price is a steal. As of late, a ticket to a big solo artist such as Taylor Swift, Drake or Luke Combs, can start as high as $300.00. That money is going toward one artist and possibly an opener or two. For an Outside Lands ticket, you are paying to see around ten artists of your choice in one day, and if you happen to purchase a three-day pass, you get more than one day's worth of music for a rather reasonable price.
Concerts also have explicit start times that you have to follow to see the so-named artist. Music festivals grant flexibility. Outside Lands began at 12:00 p.m. and went as late as 11:00 p.m. It is your choice when to go, depending on who you prefer to see or when in the day you would like to attend. If morning is not your preference, your day at the festival can begin at 4:00 p.m.
With the multiple days offered, it is no problem if you cannot attend a day and can only manage two. The ticket sales offer two-day passes, or you can purchase single day tickets.
Music festivals are a product of how you prepare for them. Preparation can make all of the difference. A fanny pack can be crucial for holding your belongings, such as your keys, wallet and phone. This can lower stress over losing items. A hydration pack will also assist in keeping you healthy as you attend. Hydration is vital to your well-being, and having water on you at all times prevents having to exit a crowd or risk dehydration. Your health and safety strongly affect your ability to enjoy yourself.
Depending on your love for a certain artist, you may have the dedication to get to the front row. Every morning, the crowd would line up before the gates opened, to attempt to get a barricade spot for a headliner or just a favorite. Unless you have a VIP pass, a close spot can be competitive, but depending on your comfort, squeezing your way to the front is always a possibility.
Most importantly, music festivals can create many memories for you and your friends. Festivals use the power of music to unite all attendees, regardless of music taste or personality. Being in the crowd, you are bound to become friends with the group next to you who happened to have the same favorite song as you.
Being united under a performance is bound to leave a meaningful impact on your appreciation for music and its artists.
NO: Costs are endless … and so are the crowds: Mia Muzzi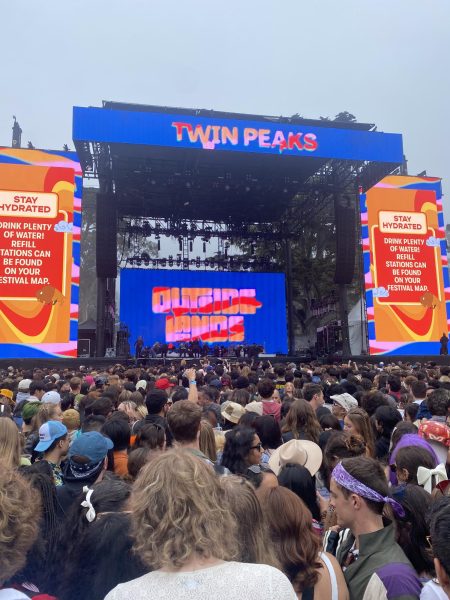 It was March 1, 2023, and I was calling my mom, trying to convince her to let me go to Outside Lands. Popular amongst teenagers and young adults in the Bay Area, Outside Lands is a three-day music festival during the second weekend of August. All of my friends had gone the year before, but I stayed home and as the weekend came to a close, I saw all of their pictures, realizing I had completely missed out. This year, I was determined to convince my mom, get a three day pass and have the time of my life. However, that was not the case.
My mom decided to let me go on the condition that I pay for half the ticket. The general admission ticket cost $550.00, and only paying for half of that became too good of a deal to pass up. So, in the months approaching the festival, I worked long nights of babysitting to cover the ticket, with my expectations growing higher by the day. I gathered my outfits, made plans with friends and organized which artists I wanted to see. The thing I did not know when I bought my ticket was, to regulate the crowds, the festival purposefully scheduled headliners to appear at the same time. So, I was slightly irritated when I realized most of my favorite artists were performing simultaneously.
I continued my planning for August 11, the day that I would hear at least a few of my favorite songs. But, when that day finally came, I quickly realized that the $550.00 wasn't the end of my spending.
The Uber ride from Burlingame to Golden Gate Park was $50.00. The cost of food was much higher than I had anticipated. Every time I pressed "pay," I wondered how much money would be left in my bank account after
it was all over. Including the cost of rides, clothes, food and half of the ticket, I spent close to $700.00 on the weekend – equivalent to seven nights of babysitting. Going into the festival I knew it would be expensive, but I validated it with the fact that I was going to see so many artists and that it would be "fun."
What I wasn't expecting was the amount of people that were there. They were everywhere. Lines for food and porta potties were at least 30 minutes long and, as a result, took time away from the performances that we wanted to see. Not only that, but when we finally got the chance to see an artist we liked, it was impossible to enjoy with all of the other fans pushing to get closer to the stage and climbing on each other's shoulders to get a better view. In addition to this, I also experienced at least four stops in music due to people fainting from dehydration and watched medical staff carry them out of the crowds, warning attendees of the dangers of getting too close and not drinking enough water.
Once the sun had set, the crowds got seemingly worse as it meant the night's headliners were going to perform soon. I am 5-foot-4-inches and was stuck directly in the middle of a giant crowd, unable to see a thing, for Lana Del Ray on Saturday night. There were people surrounding me on all sides, so much so that I had to leave the crowd and miss the performance that I had been waiting months to see.
Upon leaving, I experienced what I thought was the worst part of the weekend: the fans. Everytime I tried to get through the crowd to leave, it was more and more hopeless as fans would yell at me, saying I was ruining their show. Everyone is so determined to see their favorite artist that courtesy does not exist and, instead, the concert resembles Charles Darwin's survival of the fittest.
Attempting to get my money's worth, I stayed as long as I could for the three days, but finally on Sunday night I couldn't do it anymore. At only 7:00 p.m., I ordered my $50.00 Uber back home and missed another set of headliners that I had been looking forward to.
With my first Outside Lands done and over with, I reported back to my mom, telling her I would never be going in the future. With the cost, the crowds, the unpleasant people and limited artists that I was able to see, I could not fathom going through it again. Much to my dismay, she responded with, "I told you so."