NDB celebrates Earth Week
From April 26 to 28, NDB celebrated Earth Week. There was an Earth Week committee who had been working diligently the month of April alongside their moderator Amy Jobin to help plan the events for the week.
The celebratory week began on a Wednesday. It also marked the beginning of Trash Wars, which continued until Friday.
Trash Wars is a tradition at NDB where each class has a designated trash can to throw away all of their waste during lunch and snack breaks. At the end of the week, the total amount of food waste will be weighed. Whichever class has the lowest weight will win 50 spirit points in addition to a special treat the Monday after. Rules are very strict for Trash Wars. If any student is caught putting their trash in the wrong bin, their class will have 2 pounds added to their final weigh-in.
"Earth week came to be through the contributions of multiple grades, which demonstrates how many students understand the importance of celebrating the earth," said Kendall Duffy, a member of the Earth Week committee. "I loved getting the opportunity to organize interactive activities for students."
The event on Thursday was the highlight of the whole week. The committee hosted an Earth Day Celebration during lunch in the Innovation Lab. During this time, students and committee members made art to help create the NDB Tree of Life. They also planted seeds for their home garden and learned about the consequences of palm oil to our environment. Furthermore, they provided eco-friendly treats and raffle prizes to anyone who came. Since the event was very educational in helping spread awareness, it counted for community service hours as well.
On the last day of Earth Week, Friday, students could dress in spirit of Earth Week by wearing blue and green to honor the Earth. The two students who dressed the most spirited won a prize.
At the end of the week, the winners of Trash Wars were announced. The Seniors ended up having the least amount of waste and got cookies during lunch on Monday.
Leave a Comment
About the Contributor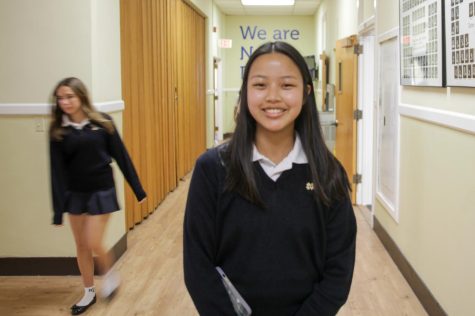 Hannah Nebres, Arts & Life Editor
Hannah is a senior at Notre Dame Belmont, and it is her second year writing for The Catalyst. Her previous involvement in the Journalism Club has interested...