Q&A: Seniors share their thoughts on graduation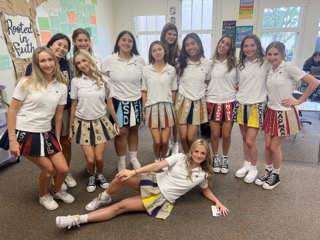 The Catalyst: How do you feel that graduation is one month away?
Ariel Lucas: I feel a mix of emotions, so I'd say it's bittersweet. It truly feels like time has gone by so fast! I'm excited that graduation is so close but still a little apprehensive because it's such a big transition and many of us are either going to different cities or another state. Most of all, I just want to enjoy this last month of high school to the fullest. Graduation is a big day for all of us and we have all worked so hard. I think it's time for us to enjoy our accomplishments and I know that I look forward to these next four years.
Clarissa Wing: Graduation being only one month away is definitely bittersweet. I'm sad to say goodbye to all my teachers, friends, and community at NDB. But, I'm also excited for our class to begin this new and exciting chapter in our lives.
Morgan Stein: I'm definitely nervous about leaving school and going to college but I'm also ready to be done with high school and close this chapter. I am really excited to start a new chapter of life and meet new people and try new things.
Chloe Parkinson: While I am excited to graduate now and experience new things, I know I will miss a lot of things from NDB in the future. I think I will realize all of the things I have taken for granted when I live on my own in college. However, I am extremely excited for independence.
Casey Peterson: I feel excited for graduation but I am also so nervous because the future is so unknown right now. The independence that is ahead and having to start so fresh and not knowing anybody is really nerve racking. But at the same time, I am so excited for this new time in my life and can not wait for what college holds.
Leave a Comment