NDB hosts Annual All-Sport Banquet to close out the year
This year's sports banquet was held Friday, May 12 in NDB's Moore Pavilion. This event brings together athletes from each sport to recognize each other's athletic strengths and bid a final goodbye to their senior teammates.
Announced by NDB Athletics Director Christina Okubo, the awards segment started with team-nominated recognitions. These commonly consist of the MVP, Most Inspirational, Most Improved and the Coach's Award. Each sport had up to five winners who were asked to stand up and take a photo.
Okubo went on to announce the recipients of the five major athletic awards. She explained the significance of each and why each athlete deserved said award.
The first winner was Julianna Loar, achieving the Coach Ron Williams Memorial Scholarship. This award is given to a freshman on the basketball team that embodies the qualities of the late coach and has a strong future in the sport.
The Season of Sport Award was won by senior Abigail Earnshaw, who played both water polo and softball all four years of high school – an impressive eight seasons in total. Not only has she had many "seasons of sport," but she also has shown her dedication to each sport individually, justifying her win.
Senior Erin Wallace won the Scholar Athlete Award. Wallace has more than 100 service hours and a 4.22 GPA, both of which are above the minimum requirements for this achievement. Wallace was also able to balance volleyball and beach volleyball, displaying her educational and athletic determination and focus.
The third award of the night was the Allison Huber Award, won by Sophia Rask. This award was another memorial award given to a student-athlete that has demonstrated the aspects of a great leader.
The Tiger of the Year was given to Athena Carvallo, who has played soccer during her entire high school career. Carvallo is an athletic commit to University of California, Riverside, to continue strengthening her skills inside the classroom and on the soccer field.
Okubo ended the night by expressing her gratitude for all of the athletes at NDB, thanking the parents and staffulty that make each athletic year possible. NDB continues to lead in the classroom, on the field and on the court.
Leave a Comment
About the Contributor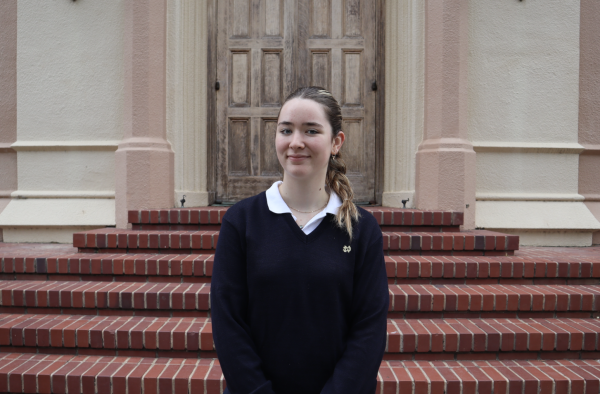 Francesca Arbelaez, Senior Editor
Francesca is a Senior at NDB. This is her third year taking Journalism and she's excited to participate in the Catalyst in the 2023-2024 school year. She...