Spirit Squad welcomes new program director and coach
With the start of a new season comes the start of a new program. NDB recently welcomed Morgan Craig as Program Director and Head NDB Spirit Team Coach. As previous coach of the NDB Spirit Squad for more than 16 years, Craig is bringing a lot of experience and energy into the rebuilding process of the program.
Craig was the head cheer and dance coach at NDB from 2001 to 2017. He led his teams to win five National Championships and two Grand Championships with the United Spirit Association (USA) and the National Cheerleading Association (NCA). Craig later returned unexpectedly due to the state of the NDB cheer team.
Craig was given the sudden opportunity to return to NDB as interim head coach for
both the pom and cheer teams back in February of 2023. Although instantaneous, he dropped his retired life in Virginia to take both teams through Nationals and to the end of their season. Craig's love for the sport of cheerleading and his commitment to NDB was highlighted through his prompt return. Craig picked up his life in Virginia to move back once offered a full time position.
In his early years, Craig always found an interest in cheerleading due to his passion for dancing and tumbling. From the sixth to the twelfth grades, he was the lone male cheerleader at Fremont Christian School in California, and was named an All American by USA all four years of high school.
His involvement in cheer and dance influenced other boys to join him during his senior year as varsity cheer captain. He was chosen to be a cheerleader at the Opening Ceremonies of the Summer Olympic Games in Los Angeles in 1984. Out of all 200 male and female collegiate athletes, Craig was the youngest one invited.
After graduating high school, Craig began as a USA staff member and taught summer cheer camps all along the West Coast. Following that, his career took off. He began judging several
regional and national competitions, for both the USA and America's Cup. He later opened his own competitive cheerleading gym, Premiere Allstars, in San Mateo, CA in 2005.
Craig was one of the two co-founders of CHEER San Francisco, a nonprofit cheering group, in 1992. For almost 20 years, he worked as a creative coach and choreographer, where he gained most of his experience, while also directing the organization as a whole. CHEER SF used cheerleading to advocate and raise money for organizations supporting those suffering from HIV, AIDS, cancer, etc.
The teams marched in both of President Clinton's inauguration parades in Washington, D.C., under Morgan's leadership. Craigs teams performed in Chinese New Year parades in Singapore, the Sydney Opera House in Australia, the Royal Palace in Amsterdam and Madison Square Garden in New York City.
In 2010, CHEER SF was featured on the TV show, "America's Got Talent." With Craigs choreography, their performance led them through each round, onto live television and to being one of the final 48 acts on the show.
Craig's natural talent and immense background in cheerleading has drawn him back to be the program director and head coach of NDB's pom and cheer teams. His new policies allowed tryouts to run smoothly in the first week of May.
"I want to bring recognition back to the team like the program. I want to continue to do what I did before and build the program because I want our teams to be huge," Craig shared. "I just want to build up the reputation of the program to where I had built it up before."
Craig's prior experience in cheerleading and coaching makes him well equipped to take back control of NDB's Spirit Team program and help it excel once again.
Leave a Comment
About the Contributor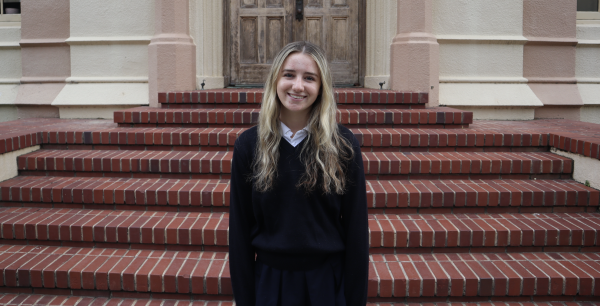 Ashley Strain, Managing Editor
Ashley Strain is a junior at NDB. She has been a member of Journalism Club since her freshman year and contributed as a Staff Writer for the Catalyst in...