The Monarchs attend their second Aquacades
After a thrilling experience and third place finish at Aquacades last year, the Sophomore Monarchs were excited for another chance at earning first place over the freshman Sharks, junior Dragons and the senior Wildcats.
The sophomores were hard at work, spending countless hours on shopping for props and practicing a variety of group and solo swim and deck routines, all while helping student council with the backdrop.
The Associate Student Body (ASB) officers announced the highly anticipated Aquacades theme as "Vaycades" earlier this year. The Monarchs were only allowed to choose songs that were rock or jungle themed. Songs like "Eye of the Tiger" by Survivor, "Bohemian Rhapsody" by Queen and "Lion Sleeps Tonight" by Tokens were especially popular amongst the crowd.
All sophomore Aquacades performers felt very confident going into their routines after performing them in front of their parents the day before. However, one problem lingered in the sophomores' minds as they stood outside the gym and waited to reveal their Aquacades entrance.
They were the smallest class size in comparison to the other three.
Spirit was one of the most important categories to boost their chances of winning, but they scored the lowest in that section because their chants and cheers were always drowned out by the other classes. Though they ended up scoring second in many of the group and solo routines, their spirit placement dropped them down to third place overall.
Though the Monarchs left Aquacades disappointed in their third place finish, they are using this loss as motivation to come back even stronger next year.
Leave a Comment
About the Contributor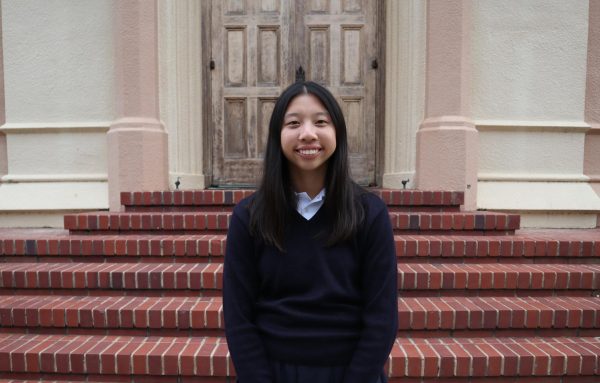 Andie Wong, News Editor
Andie Wong is a junior at NDB and is serving as the News Editor for The Catalyst. She became an active member of the Journalism club in her sophomore year...