The Class of 2023 says goodbye to NDB
Since the fall of 2019, the Class of 2023 has overcome great challenges and has made significant contributions to NDB in areas such as academics, leadership and sisterhood. Most importantly, each member of the class has grown personally and as they prepare to graduate, they reflect on the past four years that have made them into the individuals they are today.
A few weeks into their first semester of freshman year, the Class of 2023 named themselves the Wildcats to fit their red class color, and almost instantly, they matched the school spirit of the other grades. They won their first Ding-Bat Rally, their second official spirit event at NDB, which was incredibly rare as the upperclassmen usually place the highest.
The Wildcats also exhibited strong passions for leadership from the very beginning, as the freshman class council played a huge role in class bonding. Freshman leaders organized iconic events such as the Freshman Slumber Party, where students watched movies, played games and got to know each other.
"As freshmen, we were all very motivated to get to know one another and to express our love for Notre Dame during rallies and other events," shared senior Sophia Rask, former freshman class council member. "We were definitely more spirited than girls in the older classes."
Although the Class of 2023 started their time at NDB off strong, the rise of the COVID-19 pandemic dampened their spirits as they were forced to learn from behind computer screens until the end of their sophomore year. For over a year, students were deprived of everything that made NDB so special, like rallies, Aquacades and even spending time with classmates and teachers. For many seniors today, it seems as though their underclassmen years were defined solely by the pandemic.
"COVID took away our opportunity to bond as a freshman class since we didn't have events in-person to get to know one another, but it made the rest of our time so much better because we were able to appreciate everything more," said senior Lauren Nobleza.
The Wildcats returned to campus their junior year optimistic and ready to make the best of their last two years at NDB. Many students pushed themselves academically, as a wide range of Advanced Placement courses and electives became available to them.
"Junior year was definitely a turning point for me academically since I got to take classes like Forensics Science and Precalculus Honors which were important to me because I had hoped to go into the STEM field after high school," said senior Sienna Loar.
The Class of 2023 also peaked from a spirit perspective during their junior year, especially due to their first place victory at Aquacades 2022.
"Winning Aquacades junior year was such an eye-opening experience since it really showed us how Notre Dame has encouraged us to bond and appreciate each other," expressed Senior Class President Monique Samson.
In August of 2022, the Wildcats began what has proven to be a roller coaster of their senior year. In the fall semester, seniors were overwhelmed with college applications, and early in the spring semester, college rejections and acceptances had them in a spiral of emotions. However, as the Wildcats are in their final weeks of high school, they have all decided on their future plans and will spend their final moments together thankful for the way NDB has prepared them for life beyond high school.
Leave a Comment
About the Contributor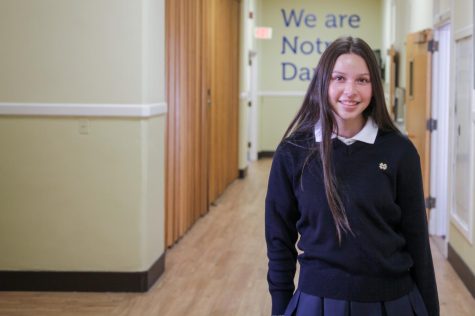 Molly Phan, Editor in Chief
Molly Phan is a senior at NDB and it is her third year with The Catalyst. She was involved in the journalism club her sophomore year and served as the...