Memorial Day: A tribute to those who served
Memorial Day, celebrated in the United States on the last Monday of May every year, serves as a day for American citizens to take time and reflect on the various sacrifices that soldiers have made to promise us a better future. Rather than just seeing it as a day off from school, people should use this day to look back and remember the history of our country, and understand the contributions the military has made.
To commemorate Memorial Day, there are a variety of ways to keep the lives of America's soldiers close in our minds and in our hearts. One of my personal favorite ways to celebrate the contributions of soldiers is to attend the USS Hornet Museum. There, World War II artifacts and living veterans help to keep the memory of honroable soldiers alive. Without actively engaging in this rememebrence, the meaning of Memorial Day fades.
Just recently, a man named Ken Potts, one of the last remaining survivors of a Pearl Harbor warship sinking, died at age 102. 101-year-old Lou Canter is now the only other remaining survivor from the ship, called the USS Arizona. Although this generation is leaving us, their long-lasting impact shouldn't, which is why keeping the history of WWII alive is crucial to understand their acts of bravery.
According to a bar graph developed by the US Department of Veterans Affairs, the surviving WWII veterans for 2024 are estimated to be less than 2,000. This is an alarming decrease in the population, from the 167, 284 of 16 million Americans recorded to be alive in 2022. We should embrace American history not just for the fact-based education, but to kindle a personal connection to the subject through humanizing the millions of veterans who have served our country.
While this era of people is passing on as time progresses, we cannot forget the lasting impact fallen soldiers have made on our nation. Memorial Day continues to be a time set aside to commemorate the lives lost due to war, and celebrate the veterans who live on today, honoring all these individuals' for their selflessness during a time of great uncertainty. Remember that each time you sing the National Anthem, take school off for Memorial Day, or visit a war museum, you are not passively remembering the war effort, but actively paying homage to each of the sacrifices made for the future generations of America.
Leave a Comment
About the Contributor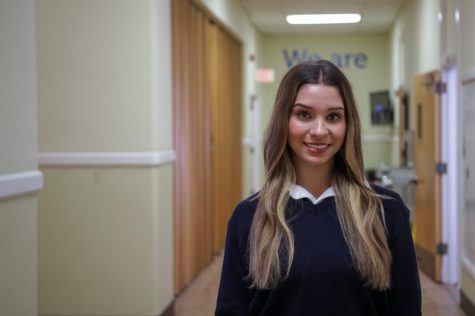 Ava Marinos, Opinion Editor
Ava Marinos is a senior at NDB and is excited for her third year with The Catalyst. She actively participated in the club as a sophomore and junior and...