Taylor Swift's Eras Tour surpasses fans' "Wildest Dreams"
It all started on Ticketmaster, where "Swifties" struggled to buy tickets for Taylor Swift's Eras Tour. Due to the chaotic rollout of presale tickets, the company was left having to cancel the general public sale of tickets for all of her shows. With Swift having not gone on tour in years and newly releasing her album "Midnights," the urgency to see her live has become overwhelming among fans.
While millions of people across the nation have been desperately searching to buy tickets, only a portion of hopeful fans have successfully earned them.
"I was actually very shocked at the demand," said senior Brooke Anderson. "I know Taylor has risen to a lot more levels of fame recently, but I have never seen a stadium tour sell out like this. I think people really missed concerts and are trying to go back and maybe that's why that sold out."
The Eras Tour officially started on March 17 and ends on August 9. The tour began in Glen-
dale, Arizona. Swift will be showcasing her 10 studio albums, including two re-recordings, with
this being her first tour in a shocking five years. Senior Kaelin Kockos attended Swift's concert in Las Vegas.
"I was so excited that I was able to go to my first concert for Taylor," said Kockos. "I always listen to her music and I love her so much. Getting to hear her music live is surreal."
The Eras Tour is meant to exemplify the diverse musical eras and journeys that Swift has encountered throughout her musical career. This is what makes the show so unique, as fans get to enjoy their favorites, whether they be from her first album released in 2006 or her newest one which came out just this year. In addition to Swift's full set-list, the tour also features other popular artists, including Paramore, Phoebe Bridgers and girl in red.
Given that Swift is a major powerhouse in the pop music scene and the fact that many NDB students enjoy listening to her, there is a large number of students who plan on attending her Bay Area concert in the summer.
"I would say I'm a pretty big fan. I've been listening to her music since I was little and have always loved her songs," said senior Sophia Vahabi, a fan who was lucky enough in securing a ticket to one of Swift's upcoming concerts.
"I'm going on July 25 with Sofia Panagrossi. I initially thought that I wouldn't get a ticket and I was worried because of the delays and how many people were trying to get a ticket at the same time."
Because Swift does not perform in the Bay Area until July, students are able to get sneak peaks for what is to come. During her Glendale show, Swift performed 44 songs, starting with her album "Lover," and ending with "Midnights," causing the show to last well over three hours.
Besides her incredible musical talent, Swift was sure to incorporate many other levels of extravagance to her performance, making the night extra special for all of her fans. This included a spectacular stage, with various lights and intricate sets as well as professionally trained backup dancers. In addition to this, Swift wore over 10 costumes on stage, including a ballgown, silver suit jacket and most notably, a rhinestone bodysuit.
Another memorable part of the concert was her recreation of the iconic ensemble moment from her "22" music video. After performing songs from her pop album, "Red," she asked the crowd if they had 10 more minutes to spare and then performed the fan favorite song "All Too Well (10 Minute Version)."
It is safe to say that Swift started out her tour with a bang, including several routines, memorable songs and showstopping outfits. Swift also revealed that she plans to play a "surprise" song that is unique to each concert date, giving fans even more excitement.
After a long five years without live performances, Swift makes a comeback with a national tour full of songs throughout her musical career, exciting people all over the world. Her Eras Tour will arguably be one of the most talked about concerts, from the Ticketmaster craze to the quality and effort she puts into carefully crafting her tour for the devoted Swifties who are fortunate enough to attend.
Leave a Comment
About the Contributors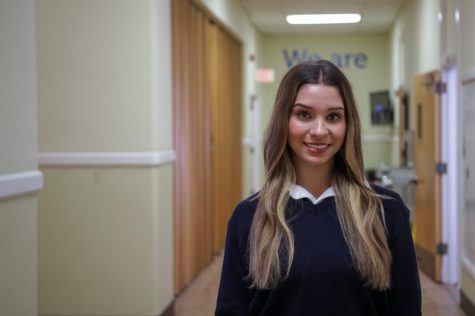 Ava Marinos, Opinion Editor
Ava Marinos is a senior at NDB and is excited for her third year with The Catalyst. She actively participated in the club as a sophomore and junior and...