NDB teachers invited to attend annual AP Reading
NDB offers its students a multitude of Advanced Placement (AP) classes, and with AP classes come the AP exams that are held internationally during the first two weeks of May. With the help of their teachers, students are preparing for these end-of-the-year tests to exercise their knowledge and skills obtained during the year and to earn college credit.
Once students finish their exams, AP readers from all over the country are tasked with reading and scoring them. This year, the College Board has invited four NDB teachers to attend this summer's annual AP Reading.
Sarah Boragno is NDB's AP English Language teacher and will score the essay component of the AP English Language exam. This summer will be her first year scoring them in-person as she has previously read exams online, though a condensed version of what they look like now. Since it is her first year reading physical copies of the exam, Boragno looks forward to the process.
"It's good for knowing the class and how to teach [it]," said Boragno. "I'm really excited to see my students writing compared to the rest of the country's and to actually be able to enjoy the professional development part of it."
AP United States Government teacher Karen Fry will read for the AP World History exam. One requirement to be an AP reader is to teach the course itself for at least three years. While it is only Fry's first year teaching AP U.S. Government, she has taught AP World History for many years and her experience scoring other AP exams has shaped the way she teaches her own classes.
"Once you start going to readings, what you see is the intentionality behind the exams," said Fry. "The people writing the exams are teachers and scholars, and they want rigor. We want the best classroom experience, and we want kids to be rewarded for taking on the academic rigor coming into an AP course."
Robert Rojas is the English Department Chair and, while he teaches English II Honors and AP English Literature, he will read for AP English Language. This will be his tenth AP reading and he shared what the experience is like.
"For at least AP English, we are assigned to one of the three essay prompts," said Rojas. "We study the prompt, the rubric, and a few dozen sample essays, so we know and understand what each score looks like – What counts as a high scoring essay? What are mid and low scoring ones? Then, we're given actual student work and we read about 150 essays or more every day from 8 a.m. to 5 p.m. for one week. It's a lot of work."
While three of the four teachers are scoring for courses in the humanities, Math Department Chair Jennifer Walton will be reading for a course in mathematics. Walton teaches both AP Calculus AB and AP Statistics at NDB and will read for the AP Statistics exam.
"The most interesting thing is to meet people from all over the U.S., both college and high school teachers," said Walton. "It's really cool to get different people's ideas on how they teach things and just to meet everybody and see what path their career took them to."
Leave a Comment
About the Contributor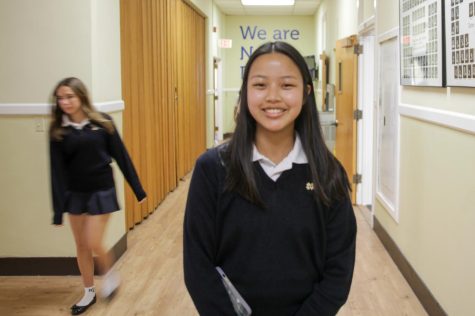 Hannah Nebres, Arts & Life Editor
Hannah is a senior at Notre Dame Belmont, and it is her second year writing for The Catalyst. Her previous involvement in the Journalism Club has interested...