The anxiety that comes with "status update"
College decisions are already rolling out, with emails flooding students' inboxes with: "Status update." These two words can trigger excitement, stress and anxiety, as it notifies the receiver that an admission decision has been posted on their college portal. With all the hard work that they have put in across four years and during the application season, to say that the two words "status update" causes stress would be an understatement.
Between the months of December and April, seniors receive their admissions decisions. Each decision date is heavily awaited by all those who applied. Decision releases for more popular schools create widespread anticipation across the class. When letters are finally released, the stress of waiting goes away, but seniors must then navigate how to handle both excitement and disappointment, and possible tension between classmates as a result of these decisions. Some may choose to share their excitement with others and reveal their result out in the open, but it may be a sensitive topic for others to publicize.
"So far only a couple of decisions came out for me," says senior Ella Chatterjee who has heard back from some schools that she applied Early Action to. "But I choose to share with some of my close friends who know where I'm applying and then I'm open to sharing with whoever asks."
While some students applied early to schools and already understand the excitement surrounding the big reveal, some seniors have not experienced that yet as they chose to only apply for Regular Decision.
"I think it's definitely a good thing to be transparent and honest," says senior Clarissa Wing, who has not heard back from any colleges yet, but is already looking ahead. "But obviously if you don't want to share, you don't really owe that to anyone. It's really just a personal choice. I feel like I would be comfortable sharing if I was accepted, waitlisted, or declined, but it's really subjective."
The college admissions process can be stressful, and it is important to remain considerate of the seniors and their well-being, especially during the time that they are receiving decisions. Whether seniors choose to share their college decisions or not, others should respect how they go about the process.
Leave a Comment
About the Contributor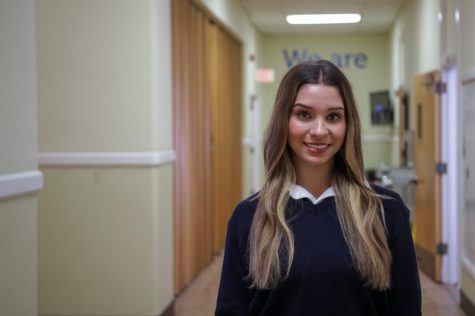 Ava Marinos, Opinion Editor
Ava Marinos is a senior at NDB and is excited for her third year with The Catalyst. She actively participated in the club as a sophomore and junior and...