Athletes begin their spring sports seasons
As winter comes to an end, we welcome the season of spring sports. NDB offers a total of five spring sports, excluding cheer and pom, which are year-round sports. These five sports include beach volleyball, lacrosse, softball, swim and track and field. Although basketball and soccer are still in season and transitioning into the playoffs, the new sports began tryouts on January 30.
Spring athletes were required to complete 20 weight room sessions before tryouts. Weight Room Supervisor Coach Kate Mahoney holds daily weight sessions for each sport, along with drop-ins for off-season athletes. These sessions range from about 30 to 45 minutes long with three sets of workouts. The pre-season weight workouts allow the student-athletes to maintain strength and flexibility, while also increasing their agility and overall stamina.
Due to the spring sports beginning, the weight room has become crowded with all five sports doing drop-in sessions.
"The weight room gets much busier once the spring season hits," said Mahoney. "Fall and spring are the seasons with the most sports so there is a major increase in teams and athletes in the weight room compared to the winter season," said Mahoney.
With the increase in sports, comes the increase in injuries. NDB's athletic trainer, Laz Cardenas has already received many visits from injured athletes since the start of tryouts. To handle the large influx of spring sport athletes, the NDB Sports Medicine department sends out multiple emails six to eight weeks prior to the tryout date to get an accurate estimate of the athletes trying out.
"Because of the volume of athletes that are participating, my workload will increase accordingly," Cardenas commented. "I am responsible for providing medical coverage for both home and visiting teams at every home contest. It is my job to ensure the safety of the athletes and contest."
Junior Cailin Thompson is an active spring athlete and looks forward to her track and field season. She said the team is looking very well rounded. Thompson is currently a member of the varsity soccer team, but will transition to track in a few weeks. She will run the 100 and 200 meters, and the 4×100, 4×200 and 4×400 relays.
"After soccer season, track is a time where I can focus on my own development. I am super excited for this season because I was able to recruit a few people to join the team who I think will be big assets," Thompson shared.
The spring season is arguably the busiest for the NDB Athletic Department, due to there being five sports. The teams will begin practice, as they prepare for the seasons ahead.
Leave a Comment
About the Contributor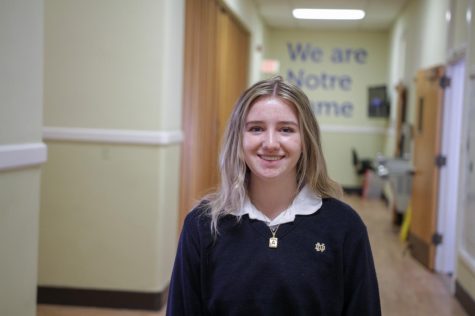 Ashley Strain, Sports Editor
Ashley Strain is a junior at NDB. She has been a member of Journalism Club since her freshman year and contributed as a Staff Writer for the Catalyst in...