Choir performs in the Tri-School Winter Concert
The Tri-School Choir, consisting of singers from Serra HS, Mercy HS and NDB, performed in its first concert of the school year on December 5. This performance is known as the Tri-School Winter Concert, where the choir performs the songs the group has been rehearsing for the past few months. Songs include winter classics such as the original Christmas carol "The First Noel" and "Pat-a-Pan." 
The choir has been meeting weekly to perfect its repertoire for this concert. With a choir of 68 members and a range of voices in alto, soprano, bass and tenors, the group has had the opportunity to improve upon their vocal skills and collaborate with a large group of singers. 
"I'm really excited to share the musicianship of so many singers with our community," said Tri-School Choir Director Joe Murphy. "This is possibly the largest this group has ever been and we have so many talented young singers."
The Tri-School Choir performed in two back-to-back performances, with their first performance at Serra HS and second performance at Mercy HS. At the Serra HS performance, they performed with other musical groups, including the Tri-School Jazz and Symphonic bands, Serranaders and Men's Choir.  
During the choir's second performance, they performed for Mercy's Choral Concert. There, the choir had a second opportunity to perform the songs they have been perfecting for months prior. Performing in the Kohl Mansion filled with Christmas decorations gave a festive atmosphere to the holiday showcase. 
The members of the choir eagerly looked forward to the day of their first official performance where they got to dress formally and perform in a beautiful venue in front of a large audience.
"I am excited to see everyone together all dressed up to perform since everyone has worked so hard," said NDB senior and Tri-School Choir Member Cristine Niswander. "I think rehearsals with both of our teachers helping us get the songs down has been a fun experience and I can't wait for what the next semester holds." 
Members of the choir eagerly awaited their first performances to showcase their talents, as they have been practicing for months leading up to their concerts. Tri-School Choir members not only anticipated their debut performances, but the large audiences that came with them as well. 
These two performances are the first and last performances of the Tri-School Choir for the winter season, so they felt all the nerves that came with performing for the first time. 
Leave a Comment
About the Contributor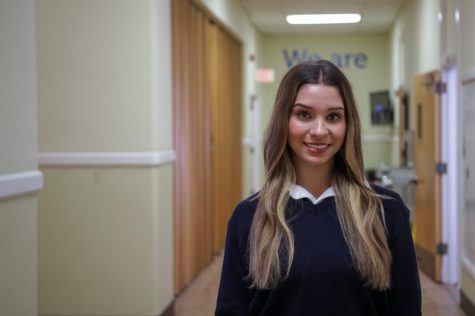 Ava Marinos, Opinion Editor
Ava Marinos is a senior at NDB and is excited for her third year with The Catalyst. She actively participated in the club as a sophomore and junior and...