Dragons attend all-day class retreat at St. Barts Church
The Dragons embarked on their junior class retreat on Thursday, December 1. Although primarily organized by Director of Mission and Ministry Amy Jobin and Spiritual Life teacher David Muir, the students were accompanied by many of their own teachers and NDB staffulty on their retreat. They spent the full day at St. Barts Church, located in San Mateo, with many of the juniors in attendance. With the theme being "Standing in Solidarity With Our Neighbors," the students participated in many bonding activities to strengthen the class as a whole.
The day began with an opening prayer and introduction, led by Jobin and the three Hallmarks in Action leaders from the junior class. Guidance Counselor Allan Gargaritano started with two icebreakers to begin the retreat on a fun note. Social Science Teacher Melanie Flint followed with an active listening activity helping to build empathy.
The first two guest speakers, Jim McGarry and Kathy Curran, both presented an informative speech revolving around the importance of social justice, forgiveness and the theme of solidarity. McGarry brought in and shared a painting, done by his sister, that had a deeper meaning than what it portrayed. He connected the class by engaging everyone in the discussion about the painting. Curran began her speech with a story, filled with life experiences, impactful people and forgiveness. She closed out by connecting the day's theme of solidarity to her opening story.
Following the two speeches from the speakers, the students moved into the workshops. Over Thanksgiving break, the students were emailed a lunch form, with which they could place their own orders ahead of time. The students were also given a form assessing their top choices for the Social Justice breakout activity during the retreat day. With this organized beforehand, each student was handed a nametag that made the day run much smoother.
There were four breakout sessions, each holding around 25 students, with a variety of organizations being represented. Lynelle Bilsey and Marlon Empleo came to represent their organization, LifeMoves. This organization visited NDB on a recent C-Day. Eric DeBode came with his organization, Abundant Grace Coastside Worker. Tiffany Hautau attended with other co-workers in presenting their established group, Polynesian Voices. Lastly, Gala King and co-workers presented their organization, Interfaith Movement for Human Integrity, which highlighted the struggles of immigration and what they do to help.
Each student was given a chance to pursue their interests by attending one of the four organizations, sparking inspiration and a sense of community for the juniors.
A dancer from the Polynesian Voices organization presented a Fujian dance for the whole class to experience. Expressing his Fujian culture and organization, the students were able to take a glimpse into this culture's traditions and way of life.
The students were given half an hour for lunch, and then were broken up into small groups for a discussion. They were led by their group leaders, given earlier in the day, and were asked to all participate in the conversation.
English Teacher Esthermaria Martin introduced the next art activity, a six-word story. Each student was given a petal, on which they each wrote a six-word story. They were asked to make them colorful and meaningful. When finished, the students all placed them in the center of the room, forming a full flower of all of the juniors' petals.
For the final service activity, the juniors participated in making mini care packages to give to local shelters. Each pack included a new pair of socks, provided by the students, along with body wipes and mylar blankets. The students wrote a note and tied it all together with a ribbon.
"My favorite activity of the day was making care packages for the homeless," said junior Izzy Sucre. "It was fun to put everything together, and I love that it's going to a good cause. It's great that our fun activity will have a positive impact on our community."
Muir gave the closing ritual and prayer, along with Social Science teacher Wendy Connolly giving the final reflection. The students were given a full day of service, social justice awareness and solidarity, bonding the class and the community as a whole.
Leave a Comment
About the Contributor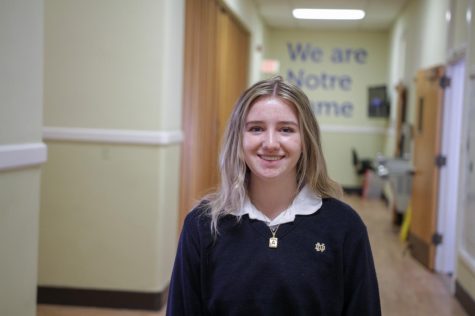 Ashley Strain, Sports Editor
Ashley Strain is a junior at NDB. She has been a member of Journalism Club since her freshman year and contributed as a Staff Writer for the Catalyst in...