Giving back to the community during the holidays
The holidays serve as a reminder to appreciate those who love and support you and to be thankful for all that you have. Providing support for those who may need it is a great way to express your gratitude, so here are some simple ways that you can serve your community this holiday season. 
The first and likely the most accessible way to support those around you is to serve your school community. Here at NDB, there are always opportunities to get involved with volunteering on campus. Sign up to be a student ambassador or volunteer to lead events such as Freshman Orientation or Open House. If you see a teacher or administrator who seems like they could use a hand in their classroom or office, offer to help. Working to support one another within our school community is incredibly important to ensure a respectful and productive environment. 
Because NDB recognizes the importance of giving back, community service opportunities are offered to students throughout the school year. Executive Assistant to the Head of School Alejandra Arias and Director of Mission and Ministry  Amy Jobin work together to send announcements about service drives and volunteer opportunities on or around campus. 
As the holidays are approaching, NDB's upcoming toy drive on December 14 is one that many are choosing to participate in. The school plans on rewarding spirit points to the class who donates the most toys, encouraging to buy toys and gift cards to donate to children. 
"At this school I don't think that the majority of us really have had to worry about things like 'Oh, is Santa coming? Are we getting gifts for Christmas?' So I feel like it's just important for us to be giving back to communities that maybe don't have that privilege," said Junior Katie Homrig. "It is easy enough to purchase a toy and help out."
"
What I really hope is that people will do community service, and that they will be changed somehow."
— Amy Jobin
However, community opportunities are not limited to the NDB campus. Many students choose to engage in opportunities outside of school and around their own community. Local donation drop-offs for toys, clothes or any other equipment are an easy way to help those in need. Also, attending community service events in your neighborhood is something that you can participate in with your friends or family. 
"What I really hope is that people will do community service, and that they will be changed somehow," said Jobin. "We have so many amazing non-profit organizations in San Mateo County and it would be special for people to make a point to research them and do service with their favorites. I want them to benefit from that service and have interacted with people who will impact them. That is my goal."
Since the holidays can be a time of need for many families, it is important now more than ever to give back to our communities and support those around us. Through sinple acts of service, you can make a substantial difference in the lives of many and help make their holiday season special this year.
Leave a Comment
About the Contributor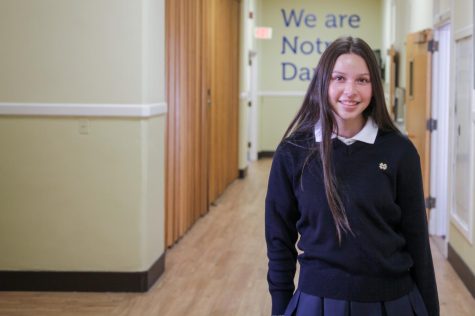 Molly Phan, Editor in Chief
Molly Phan is a senior at NDB and it is her third year with The Catalyst. She was involved in the journalism club her sophomore year and served as the...