Winter sports seasons begin at NDB
The winter sports season has officially begun at NDB as the basketball and soccer coaches have drafted their teams and have started preparing for the season ahead of them. Basketball tryouts were held from October 31 through November 2, and soccer tryouts from November 7 through November 10. Both the basketball and soccer programs include a JV and varsity team.
Led by Head Coach Samantha Rossi, the varsity basketball team looks similar to last year's, with the newest addition being freshman Lizzie Johnson. There are also several players who have returned this year from injury.
"I am looking forward to competing against many of the teams that may have won against us last year. I think we have a very special team and I am excited to see how our gameplay will look this year," said junior and team captain Julia Oliveira-Killmon. "A lot of us are very competitive and look forward to playing with the mindset of winning as a team. Our team has been used to having a lot of height to work with, so I think we are going to have to adapt to learn how to play with mainly guards."
Varsity Basketball won their first scrimmage on November 15 against Sequoia HS, and lost their CCS Friendship game against Carlmont HS on November 17. On November 26, they played in their first preseason game against Westmont HS, which they won with a score of 52-23.
The JV Basketball team has also started off strong, winning their first official game 41-25 against Hillsdale HS as well as their second game 41-17 against Westmont HS.
"I am looking forward to being on a team where I can make new friends and work with others. Playing high school basketball is definitely a more competitive space than how it was in middle school, but it is fun to compete with better teams and challenge myself," said freshman Julianna Loar.
The Varsity Soccer team has a fairly equal number of returning players and new players. Led by Head Coach Paul McCallion, the group looks forward to the competition that lies ahead of them.
"I'm excited about our tournament in Arizona and being able to bond with the team. I think that this season will be similar to the past season because although there are many new players, we already work well together," said senior Athena Carvallo.
Varsity Soccer kicked off the season with a win in their first preseason game against Hillsdale HS on November 22 by a score of 1-0.
The JV Soccer team is a large group and includes many freshmen. The new team lost against Hillsdale HS in their first game 4-0.
The four winter sports teams will continue to compete in the preseason until league games, or the regular season games, begin in January.
Leave a Comment
About the Contributors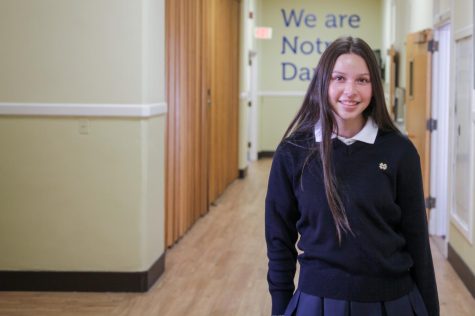 Molly Phan, Editor in Chief
Molly Phan is a senior at NDB and it is her third year with The Catalyst. She was involved in the journalism club her sophomore year and served as the...