Asynchronous learning leading into Thanksgiving Break is a positive thing for NDB students
NDB students are released from school on Wednesday, Nov. 23 for Thanksgiving Break. Many are looking forward to having these five days off from school during such a stressful season. Leading into the long-anticipated break, NDB is holding two asynchronous distance learning days on Monday, Nov. 21, and Tuesday, Nov. 22, along with Serra HS and Mercy B.
So, should NDB students be in asynchronous distance learning for the two days leading into Thanksgiving Break? I am certain there are differing opinions surrounding these distance learning days, but I think that the two days on Zoom are a positive thing for the student body. 
Firstly, it is a way for NDB to strengthen its online school capabilities so that if we need to go virtual in the future at any point, there will be no lapse in the continuum of curriculum.
Exercising our since-forgotten Zoom skills is critical to the success of our students. It is not just a schoolwide skill, for many lecture series, and college admissions offices are using Zoom for their programming as well. Our students must be familiar with this technology, as well as the online presence and behavior that comes with it. Gone are the days when it is cute or funny to be talking while your mic is unmuted.
Another positive aspect of asynchronous learning is the ability for students to travel with their families without missing class instruction. Whether it is to visit extended family members or just to explore somewhere new, many students are planning to travel over the holiday break. 
There are only so many opportunities for NDB families to go out of town during the school year, so it is understandable why families would want to use this break to their advantage. Without the distance learning days, there would only be five possible travel days, but with this asynchronous opportunity, families have a total of nine days (including the weekend before Thanksgiving) to travel. 
"I'm very grateful that I am getting to travel with my family to Puerto Rico this break, to visit other family and to relax," said senior Gabby Wylie-Chaney. "Especially because our school grants us the opportunity to have the full week and zoom into our classes on Monday and Tuesday." 
It may feel strange to once again see everyone's faces on Zoom, but ultimately, this adapted style of learning is a great way for all of us to both polish our technology skills and get the most out of the Thanksgiving Break.
Leave a Comment
About the Contributor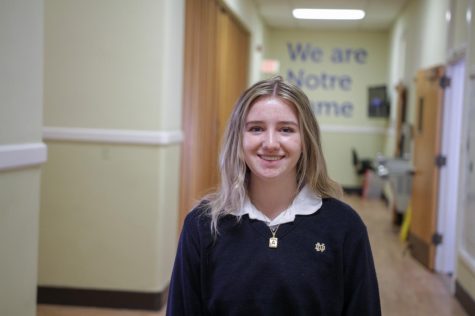 Ashley Strain, Sports Editor
Ashley Strain is a junior at NDB. She has been a member of Journalism Club since her freshman year and contributed as a Staff Writer for the Catalyst in...