How stars on "Dancing With the Stars" who have an extensive dance background are unfair competition
"Dancing With the Stars" ("DWTS"), a hit dance competition series, is seen as one of America's favorite dance shows. Professional dancers partner up with celebrities and compete in ballroom dancing, with styles ranging from Argentine Tango to Pase Doble. The celebrities featured on the show include reality TV show stars, singers and famous athletes. These "stars" are expected to enter the show without a dance background so that they can learn and improve in dance as the weeks progress. But some celebrity "influencers" have made their way on the show, with an extensive competitive dance background hard to ignore.
Jojo Siwa, a notable dancer from Dance Moms, competed on season 3 of "DWTS". From being on two seasons of Dance Moms as well as dancing her entire life, how is it fair for her to be up against other celebrities who lack this much experience in dance? When competing for the nationally recognized title and the Mirrorball Trophy, there should be no unfair advantage given to contestants.
This season, Charli D'amelio is a contestant on "DWTS". She is widely known for her dancing on TikTok, and has been a competitive dancer for over 10 years. She began dancing when she was 3 years old and entered the competitive dance realm at 5 years old. With all of these years of dance in her back pocket, she can easily score higher than her amateur opponents. When the show scores on dance ability and stage presence alone, allowing competitive dancers to enter the show as "stars" and use their dance repertoire to their advantage is simply unfair.
"Inviting celebrity contestants that already have dance backgrounds on the show "Dancing with the Stars" gives their opponents a disadvantage," says senior Clarissa Wing. "Typically, the celebrities on the show are actors or Hollywood personalities that do not have dance experience. When I heard about dancers filling the "celebrity spot" on the show, I found it to be unfair since it means that their team has two professional dancers competing against a normal duo."
Other "DWTS" viewers agree that the show's "stars" should remain non-dancers. Even professional dancer Maksim said during season 8 of "DWTS" that it was unfair for Rycroft, who had a background in ballet and was previously a Dallas Cowboys Cheerleader, to be a "star" on the show. Another opinion on this issue was shared by Nelly, a singer who was a star on the show, as he said that he would not have joined "DWTS" if he had known that he would be up against other stars with extensive dance backgrounds.
"The premise of the show is casting celebrities who don't necessarily know how to dance, and to pair them up with professional ballroom dancers," says Jackie Marinos, an avid viewer of the show since its debut in 2005. "It's not fair to have a celebrity that used to be a professional dancer, a competition dancer, a figure skater, or a Rockette go up against other celebrities with no background in dance."
"DWTS" should reconsider the rules for their show and who qualifies as "stars" on the show. Allowing several stars with expertise in the style is unfair and defeats the whole purpose of the show, because they are supposed to learn and grow in the ballroom during their journey. To make the show more equitable and ensure no contestants earn unfair advantages, contestants should all start the way the show was intended; with no prior dance experience.
Leave a Comment
About the Contributor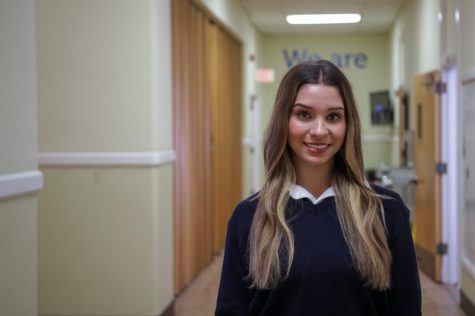 Ava Marinos, Opinion Editor
Ava Marinos is a senior at NDB and is excited for her third year with The Catalyst. She actively participated in the club as a sophomore and junior and...