Tri-School Productions: "Ghostlight"
Tri-School Productions presented their fall play, "Ghostlight" on October 28, their opening night. The play ran through the weekend, had a matinee on November 3 and ended on November 5.
The play featured Garbiela, a teenage girl who recently changed schools. As she settled into her new school, she could hear voices and ultimately befriended a ghost. Over the course of two hours, the play showed Garbiela searching for these voices and discovering secrets about herself she never knew existed.
Students from NDB, Mercy HS and Serra HS all came together as a Tri-School to work on the show, whether it was in front or behind the scenes.
A sophomore at NDB, Sianna Kiebler, was given the lead role as Garbiela. Kiebler has been doing theater since she was five years old and started participating in Tri-School Productions during her freshman year. She was a part of the musical which led to her interest in joining the cast of "Ghostlight".
"The whole thing was just so rewarding for me in so many ways," said Kiebler. "One of the most impressive things I found was the special effects that everyone put together. And just the whole experience was so much fun. Like the cast bond days, games during class and going to IHOP was great to be with everyone."
Zoé Shaikh, a junior at NDB decided to help run the play behind the scenes. Helping with the actors' many costumes and quick changes, Shaikh was an important member of the production.
"It was a super great experience because not only did I get to connect with the people who were also doing costumes but I got to connect to the cast too because I was helping them change during the play," said Shaikh.
"
As a senior, I found the experience very enjoyable, but a bit saddening considering it was my last play
— Robert Santos
Robert Santos, a senior at Serra HS has participated in Tri-School Productions since his freshman year. With it being his final Tri-School play, he had a lot to reflect on from the last four years.
"As a senior, I found the experience very enjoyable, but a bit saddening considering it was my last play," said Santos. "I will sorely miss the great times I've had performing on the stage with Tri-School Productions. I've had experience that no other program would give me and I have met many friends who I can rely and trust on through this experience."
The hardwork and long hours that the Tri-School students put into the play was obvious and the NDB community looks forward to their future productions. They have already begun planning for the spring musical, "Matilda" and there is no doubt that it will meet fans' high expectations.
Leave a Comment
About the Contributor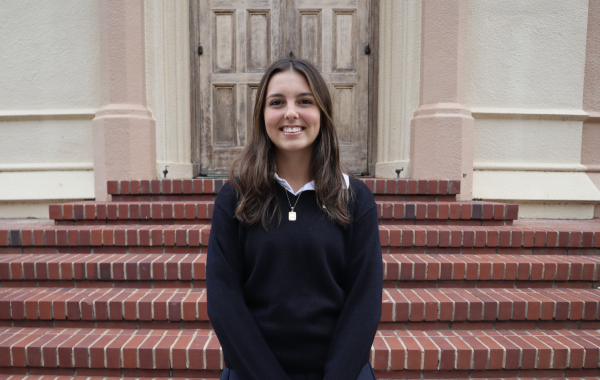 Mia Muzzi, Editor in Chief
Mia Muzzi is a senior at NDB and is in her fourth year of working for The Catalyst. She spent her freshman year as a Staff Writer, then during her sophomore...