Halloween Haunt's discontinuation this year leaves avid goers distraught
On March 7, California's Great America announced that they would be discontinuing their popular seasonal attraction,The Halloween Haunt, and replacing it with a new Halloween event. The new "Tricks and Treats" event ran from September 23 to September 30. Great America describes it as an "all-new, over-the-top, Halloween event with all fun and no fright."
The Halloween Haunt, one of Great America's longest-lasting events, featured several scary attractions and themed haunted houses, with plenty of jump scares, including workers in costume everywhere you looked. It was frightening and gave attendees an adrenaline rush.
Great America also kept in mind individuals who wanted less of a fright. A glowing necklace was provided to all age groups at Halloween Haunt, indicating that scarers should avoid those individuals. When I first started going to this event when I was younger, I started out with the scare-free necklace which helped tremendously until I was comfortable enough to take the necklace off.
The Halloween Haunt has been around for over 15 years, so its discontinuation left many who attended the event annually, distraught.
I have attended the Halloween Haunt every year since 2011, when I was 7 years old. I have experienced the closing and opening of new haunted houses, gone through the haunted houses with a variety of friends, and spent many memorable moments from each year I attended. The news of the attraction's closing especially shocked me, as well as my friends who I had made plans to go with this year.
"This makes me sad because Great America is closing altogether in 10 years," says senior Kayla Hollister, an avid Halloween Haunt goer of two years. "The Haunt was special because it was festive and different from Great America's usual theme park format. The Haunt's closing was very unexpected news to receive."
Many individuals were eagerly anticipating the Halloween Haunt. People have been longing to experience their favorite holiday special events ever since life has returned back to normal after COVID-19 lockdown measures. It is quite upsetting that their notable Halloween event is suddenly being discounted in addition to the fact that Great America will no longer exist in ten years. A more empathetic approach should have been thought of to give the theme park's avid goers the best last ten years of Great America, but they have chosen to begin making cuts early, disappointing many fans of the amusement park.
Leave a Comment
About the Contributors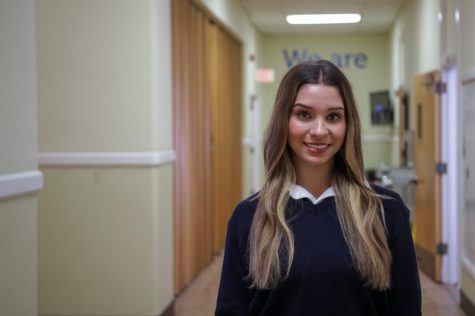 Ava Marinos, Opinion Editor
Ava Marinos is a senior at NDB and is excited for her third year with The Catalyst. She actively participated in the club as a sophomore and junior and...