Seniors feel pressured to write sob stories for their college essays
A senior's fall semester comes with a lot of pressure, but the most time-consuming task for the class is writing their college application essays. Finding a topic is arguably the most challenging part of writing a compelling essay. Admissions officers want to be pulled into a college applicant's essay right away.
Randi Heathman, The Equestrian College Advisor, even stated, "weak essays get skimmed. If a student's essay isn't great OR good, the admission officer will probably just skim past the essay and move right on to your transcript…"
So, what makes an essay worthwhile?
The personal statement, an applicant's main essay via CommonApp, comes with several open-ended questions. They range from questioning one's personal tribulations to asking applicants to submit an essay of their choosing. With such creative freedom, it can be difficult to know what to write about, especially with the hopes of truly being considered as a candidate for admission.
When so many of the CommonApp personal statement questions revolve around personal struggles,  students may want to find the most moving and dramatic hardship to write about. The loss of a family member, a mental health crisis, a financial burden; these are just some examples of events that students may reflect on. Does this suddenly turn the college application process into a competition for the most compelling sob story?
"I felt inclined to write my personal statement on adversity considering that I've been dealing with ADHD my entire life," said senior Kayla Hollister. "I had to explain my grades and the implications of the medication I have to take since I wanted admissions officers to understand my struggles with the disorder both inside and outside of school."
While there are several students who have actually experienced hardships throughout their life worthy of writing about, many have not experienced significant adversity. As a result, they try to pull at anything remotely difficult, even when it does not actually constitute a well-thought-out essay topic.
There have even been times when applicants go as far as lying about their life experiences, just to create a moving essay and gain sympathy points.
In an article on "fact-checking" in the college admissions process written by the New York Times, Sally Goebel, an admissions officer at the University of Pennsylvania tells the story of one admitted student who wrote about his mother's death for his personal statement. Seems like the moving essay gave him bonus points, but it actually ended up becoming his demise. Before classes started, an employee of the school called his home and a woman answered the phone. The woman ended up being his mother, who was very much alive. His admission was revoked thereafter.
Sometimes, it is hard to tell at first glance if a student is being truthful in their application. Advisers just have to emphasize the importance of truthfulness as much as they can, and hope that their students are acting with honesty and dignity.
"It's also difficult for me to know if a student is telling the truth or not," said Wendy Connolly, a teacher for the summer college essay intensive at NDB. "I don't know if one's essay has been embellished. When I read them, I'm reading as if this is legit."
While there may not be any verification of the truth within applicants' essays, college applications should remain truthful, as these lies can haunt them in the near future. It is understandable how one may feel inclined to produce something dramatic in order to stand out amongst thousands of other applicants, but stretching the truth should not be the solution.
Leave a Comment
About the Contributor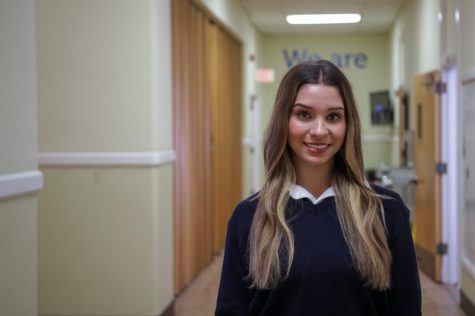 Ava Marinos, Opinion Editor
Ava Marinos is a senior at NDB and is excited for her third year with The Catalyst. She actively participated in the club as a sophomore and junior and...