The significance of Día de los Muertos is applicable to all
Día de los Muertos, also known as the Day of the Dead, is a holiday celebrated on November 1st and 2nd that centers around the rememberence of loved ones who have passed away. While it originated in Mexico, it is celebrated all over Latin America and the United States.
I grew to embrace the culture of the holiday by preparing for NDB's All Saints' Day Mass during my junior year. I worked closely with senior Bella Topalian, who informed me of her Mexican heritage and what the holiday means to her. Through crafting Papel Picado, helping design the ofrenda and planning the liturgy service, I grew to better appreciate the importance of celebrating the lives of deceased family and friends.
As a Peruvian-American, many of my cultural traditions overlap with those of other Latin American countries, but I initially did not realize that Peru celebrates Día de los Muertos. By preparing for the All Saints' Day Mass, I felt like I celebrated the holiday all month long. It gave me insight into Mexican culture, while also giving me an appreciation for the diverse sisterhood at NDB.
I gained insight from working with other Latina students, such as senior Sophia Rask, the founder and president of Latina Club, who identifies as Mexican, and former senior Ella Giguere who is Peruvian like me. The Día de los Muertos Mass planning committee last year was full of students from all kinds of Latino backgrounds, and it was empowering to come together and celebrate a holiday that can apply to all of us. As a Hallmarks in Action Board member this year, I look forward to preparing for the Mass with other NDB students and bringing in new ideas for the liturgy service.
"I have really enjoyed the process of planning, helping organize and brainstorming ideas for the Día de los Muertos liturgy service!" said junior and Hallmarks in Action Board Co-President Annette Henderson. "As a student with Peruvian roots, I am really grateful that our school embraces Hispanic cultures into our events like these."
Last year, InStep dancers were invited to perform at the All Saints' Day Mass, marking the debut of the group as the school's official ceremonial dancers. I took part in this opportunity and am looking forward to developing choreography again for this year's Mass. Bringing forth sacred items such as a Marigold flower, a photo of St. Julie Billiart and a Bible, we honored the religious history of both the Latino holiday and our own school community.
"Dancing last year was a way to connect dance and the NDB community," said senior and liturgy service dancer Georgia Blaney. "I gained a new appreciation for Día de los Muertos and saw it from a new perspective."
This year, the Hallmarks in Action Board is planning to schedule a lunch for all students to come together and create Papel Picado, a traditional Mexican craft. We found that this arts & crafts activity was a success last year, for it united NDB students and educated them on the creative process that goes into celebrating the holiday.
Celebrating Día de los Muertos helped me understand the relevance of the holiday to all cultures, as it is not just applicable to Mexican tradition. Honoring the dead through a celebration of their lives presents a positive approach to remembering their significance, which is why I continue to assist in the careful planning of the liturgy service and all the work that goes into commemorating the holiday.
View Comments (1)
About the Contributor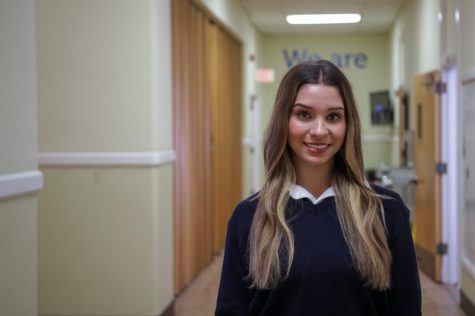 Ava Marinos, Opinion Editor
Ava Marinos is a senior at NDB and is excited for her third year with The Catalyst. She actively participated in the club as a sophomore and junior and...