How are NDB students spending their 4-day fall holiday?
With the fall holiday break wrapping up, many students have just returned from a relaxing vacation. Some of them went on a trip and others stayed home doing homework or catching up on sleep. No matter what they did, all the students had a great vacation. But what exactly did students do?
For the freshman and seniors at NDB, students actually got a five-day weekend because sophomores and juniors took the PSAT for National Testing Day. Many of the students taking the PSAT felt stressed about taking the test and had lots of negative feelings.
"It was stressful during the test because of the time constraints but it felt good to get it over with," said junior Lucy Wood.
Many students agreed with Wood's sentiment and struggled with managing their time. However, after the stressful event, the sophomores and juniors had a relaxing break to look forward to.
Lots of NDB students stayed home for their holiday and hung out with their friends and catched up on homework and sleep.
"I'm going to hang out with an old friend that I haven't seen in a while and have a sleepover," said sophomore Maegan Gomez.
Other students utilized the break to do fun activities with their families.
"My brother is coming home from college so we're going to hang out with him," said freshman Evelyn Fox.
Students vacations ranged from traveling to Southern California and taking road trips out to other states.
"My fall holiday was super fun. My mom and I took a four day trip to Yosemite which is always beautiful. My favorite part was seeing the headlamps of climbers on El Capitan at night," said junior Izzy Sucre.
While most vacations and staycations provided rejuvenation, some students had a busy break.
"It was good but I had a lot of ballet and ice skating which wasn't that relaxing," said freshman Reece Hamilton.
Whether students had a nice calm break, or a busy one filled with homework and sport practices, hopefully the NDB community enjoyed it and got some much needed rest.
Leave a Comment
About the Contributor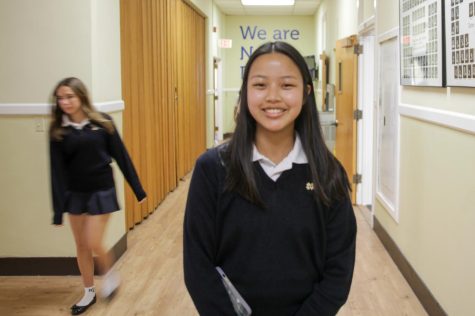 Hannah Nebres, Arts & Life Editor
Hannah is a senior at Notre Dame Belmont, and it is her second year writing for The Catalyst. Her previous involvement in the Journalism Club has interested...