How to celebrate Halloween
Every year at the end of October, students gather around to celebrate Halloween. Although most high schoolers have outgrown the childhood tradition of trick-or-treating, students have still found a way to enjoy the spooky holiday. Whether they are out with friends or hanging out at home, here are a few ways to spend Halloween this year.
For those who would rather spend their night at home, having a Halloween movie marathon is perfect to get in the spirit of the season. By inviting friends over and preparing an assortment of snacks, students can cozy up together and enjoy time together. The movie marathon should begin with a childhood favorite movie to ease into the night ahead. Upon finishing the first movie, a scary movie is much needed, given the spirit of Halloween. Lastly, students can recover from the last movie with a less intense, comedic Halloween movie. This movie combination is sure to bring success.
Some students have a go-to Halloween movie that they enjoy every year.
"My favorite Halloween movie is Jeepers Creepers so I'll definitely watch that on Halloween," said Ariana Kraemer. "I mainly like it because it is spooky especially when you watch it in the dark at night and it gives a Halloween mood."
Although some people enjoy staying in, others are bold and wish to be pushed out of their comfort zones. These people can visit a haunted house and the Bay Area has many to offer. The Winchester Mystery House in San Jose offers a haunting show and attraction just for Halloween. Both those who have been meaning to visit the famed tourist attraction and those who wish to see it again now have a chance to explore the mansion in its most eerie state.
Finally, the age-old question asking when should one stop trick-or-treating still lingers in some people's minds. Anyone who wishes to still be involved in the trick-or-treating process can join their parents in handing out candy and admiring the costumes of kids who come by. One can take it a step further and accompany their or a friend's younger sibling in collecting candy.
There are numerous ways to spend Halloween that are geared toward one's preferences, whether one wishes to be alone or around many people.
Leave a Comment
About the Contributor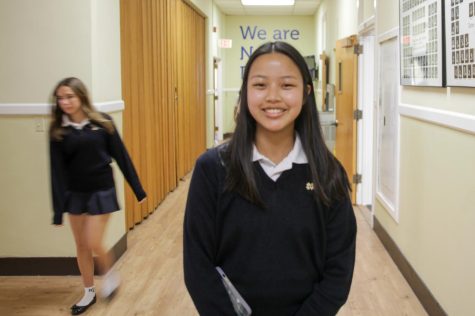 Hannah Nebres, Arts & Life Editor
Hannah is a senior at Notre Dame Belmont, and it is her second year writing for The Catalyst. Her previous involvement in the Journalism Club has interested...