NDB defeats Menlo in the Dig Pink game
On the evening of October 6, fans filled the stands of the Moore Pavilion with high energy and loads of adrenaline. The NDB Varsity Volleyball team put up a fight against Menlo School, winning the Dig Pink game. The fresh men and JV teams also won their games.
Leading up to the games, the week was filled with preparation for the school-wide event. NDB students held bake sales, wore Dig Pink spirit gear and geared up for the big event. Advertised as a spirit point event, eventually won by the Dragons, NDB students were heavily influenced to attend the game and support the Tigers.
The NDB Varsity Spirit Squad was also in attendance, seated in front of Serra HS's award-winning band. Together, they were able to connect the music to the dances and lead the crowd through the thrilling game.
The teams began warming up as nerves racked the crowd. After losing one of the team's top players, senior Ciara Mangan, to an injury just days before the game, team members were worried about their performance on the court.
Menlo came in with confidence, winning the first set 21-25. NDB, catching up, took the second set with a score of 25-21. NDB lost the third set with a close score of 23-25, but they took the crown for the fourth set, 25-16. With stakes high, the NDB Varsity Volleyball team regained their strength for the fifth and final set of the game. After a tiresome, long game, the Tigers rose above, coming out on top with a score of 15-13.
The crowd filled the court as the team celebrated amongst each other. With smiles on all faces, the NDB fans were thrilled to be a part of the special victory of the Dig Pink game.
"I was really impressed by our team's resilience. The sets we lost just motivated us more to work together as a team and find our strengths and execute," shared middle blocker and junior Anna Ansari. "I was also impressed by the crowd. The game was really long. Most people stayed until the end, which was surprising and showed impressive Tiger spirit."
After losing toMenlo in the previous season, the NDB Tigers were determined to come out on top. Playing for such an amazing cause and taking home the win, the team is going into their last few games with this large victo-ry under their belts.
Leave a Comment
About the Contributor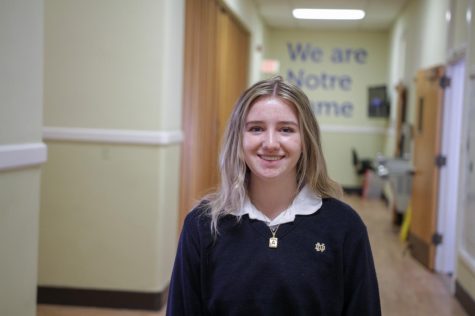 Ashley Strain, Sports Editor
Ashley Strain is a junior at NDB. She has been a member of Journalism Club since her freshman year and contributed as a Staff Writer for the Catalyst in...