Featured NDB Athlete: Gia Rivera
Gia Rivera is a freshman on the 2022-2023 NDB Varsity volleyball team. Only two months into the season, she has begun to make a name for herself in high school volleyball.
Rivera had grew an interest in volleyball at a young age while watching her sister play in tournaments. She imagined herself being in that position and making those kills she saw her sister execute. She begun to play in the third grade, a year before majority of her classmates.
Rivera's position on the team is the outside hitter and, and occasionally the opposite hitter. With the recent injury of star player, Senior Ciara Mangan, Rivera has stepped it up as the current leader of points off of kills. When playing, she focuses on her own actions and mindset. She maintains communication with her teammates on the court, especially with her setter, Junior Jessica Ai. Rivera always aims to play to her full potential at all times.
Along with the benefits of attaining great role models from her team, Rivera finds that volleyball requires a strong mentality. After playing for many years, she has found that to be the biggest benefit she received from volleyball. Rivera believes that being on a team pushes you to become stronger physically as well.
"I would say the most I've learned from this season is to just be supportive and to know that you have support," says Rivera, "and trying your best and hard working and just working, working your hardest at practice and games and being supportive and just knowing that you have support behind you."
When reflecting on the season so far, Rivera feels as though each teammate has been a role model to her this year. Her teammates have guided her through this new environment of both high school and volleyball and have made an impact on the beginning of her time at NDB as leaders.
Leave a Comment
About the Contributor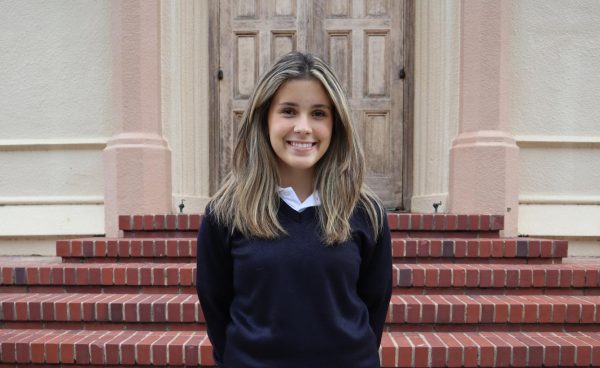 Ashley Turner, Managing Editor
Ashley Turner is part of the Class of 2024 at Notre Dame High School. This is her second year taking the Journalism class and is Managing Editor of the...