Admissions season for the Class of 2027 begins at NDB
The fall season is an important time for leaders on campus as NDB begins to welcome prospective students into the community. NDB's annual admissions season began in September and will continue until January. Admissions events are led by student ambassadors and include shadow days, classroom visits, Tiger Talks and Open House.
NDB's ambassador program is led by the Ambassador Board. This group of around 15 students manages the Ambassador Club and represents NDB at all admissions events.
"The role of Ambassador Board at Notre Dame is essential to our community as we host all the outward facing events for the prospective families and new incoming students," said Ambassador Board Co-President Stella Affrunti.
The most popular admissions events among eighth grade students are shadow days. On Tuesdays and Wednesdays, prospective students have the opportunity to "shadow" an NDB student on campus for the day. They visit classes they are interested in, tour the school and enjoy lunch with their shadow host.
"Shadowing is really the best way to get the NDB experience," said Ambassador Board Shadow Manager Anna Keim. "Eighth graders have the chance to meet teachers or coaches and talk to students who they may be going to school with next year."
There are several other ways for incoming high school students to learn about NDB, including classroom visits and Tiger Talks. Board members travel to local middle schools to give presentations about NDB and talk about the application process. They also host off-campus events where parents and students can come to ask questions before making the important high school decision.
Open House is also an important event because it showcases all aspects of NDB. Student ambassadors lead tours, teachers and coaches are available to answer questions about their respective classes or teams and student representatives share about student life.
This year, Open House will fall on October 23 and is open to students of all grades and their families.
Leave a Comment
About the Contributors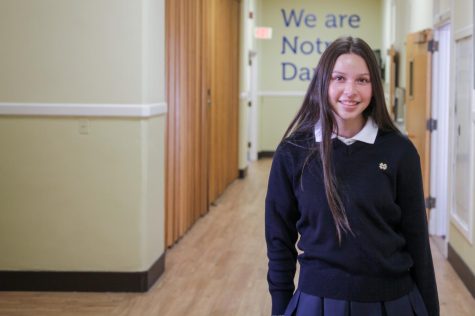 Molly Phan, Editor in Chief
Molly Phan is a senior at NDB and it is her third year with The Catalyst. She was involved in the journalism club her sophomore year and served as the...