Halloween Time at the happiest place on Earth is worth the trip… and the lines
Disneyland is transformed into a different place when October 1 hits the calendar. The park is uniquely decorated with orange, adorned with pumpkins and displays all things Halloween. From the sweet treats to the fireworks, Disneyland Park is a great place to spend time during Halloween.
Each season, fall trips to Disney get more and more popular. When compared to the absurdly busy Christmas season, many opt for the Halloween season instead. Over the course of the full month of October, Halloween is in full swing, only making crowds grow larger.
Lines at Disneyland are always long. With everyone wanting to experience the park at this time of year, crowds and lines only grow bigger, making it nearly impossible to make it on more than one ride an hour. It is especially important to be aware of the Oogie Boogie Bash, which is a large Halloween party that takes place in Disneyland's California Adventure Park and is restricted to those with party tickets only.
The strong Anaheim sun beating down during the days and the nights staying at a comfortable 60 degrees, makes for an extremely comfortable temperature pattern. The nice weather appeals to guests when planning trips, making Disneyland an ideal location as the weather begins to get colder in other areas. It is clear that when the weather fluctuates, so do the crowds.
When it comes to entertainment, the list goes on and on. Including the Oogie Boogie Bash, many of the fan-favorite rides are transformed into the Halloween spirit. The Haunted Mansion, Guardians of the Galaxy and a handful of smaller rides, are all adorned with fall colors of orange and yellow, pumpkins, skeletons and more. Many fans like the original rides as they are, yet some love the touch of spookiness.
Junior Gianna Shaughnessy visited Disneyland over the first weekend of October.
"The modified rides all changed to fit the Halloween theme added a really fun touch to the park," Shaughnessy said. "I especially loved how the Haunted Mansion was decorated at this time of year."
Halloween firework shows are held on weekend nights, where special Halloween Screams projection shows are also offered. The parades in the fall are filled with the same Halloween decor, as characters dress up in costumes and help spread the Halloween spirit.
Disneyland's array of sweet treats are modified to fit the Halloween theme that takes over the park. Many fan-favorite treats, including Mickey beignets, funnel cakes and churros, are given a pumpkin-spice twist for fall.
"My favorite touch about visiting Disneyland in October is the pumpkin flavored treats. I was excited to try the pumpkin-spice Mickey beignets…," Shaughnessy added.
Leave a Comment
About the Contributors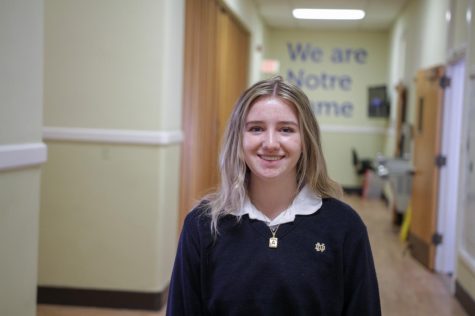 Ashley Strain, Sports Editor
Ashley Strain is a junior at NDB. She has been a member of Journalism Club since her freshman year and contributed as a Staff Writer for the Catalyst in...