NDB parent Tracy Downing shares at Dig Pink event
Thursday, October 6 was NDB's eighth annual Dig Pink volleyball game, an event that fundraises and brings awareness to breast cancer. This year's event featured speaker Tracy Downing. 
Downing, an NDB mom and breast cancer survivor, spoke about the role breast cancer has played in her life and offered advice to the community before the varsity team began their game. 
Downing shared that she grew up in a time when conversations about cancer looked very different. Breast cancer was not nearly as acknowledged as it is today and support was hard to find. She felt the effects of this when her mother was diagnosed with breast cancer and found that she had nobody to turn to outside of her family. However, she happily reports that her mom is now a three-time cancer survivor and recently celebrated her 75th birthday.
As Downing got older, she was less frequent about self-breast examinations, which she explained are a crucial step in breast cancer awareness. At 29, she was surprised to find a lump in her own breast. When she went to the doctor, she was turned away with the recommendation of a hot compress and antibiotics.
"A few weeks later, I returned and asked for the lump to be removed," said Downing. "This request likely saved my life." 
Downing's experience was unfortunately a common occurrence for women at that time. She realized that there was a belief in the medical world that young and healthy women were less likely to develop breast cancer, but in reality, anyone can be diagnosed. People with similar experiences to Downing have established that there is a need for breast cancer awareness and the creation of organizations and events like Dig Pink. Through her speech, Downing wanted to show the distinction between breast cancer awareness today and what it used to be when she was younger.
In the United States, the age-adjusted breast cancer mortality rate is 40% higher among black women than among other non-Hispanic white women.
"Raising awareness, educating and supporting women of color in our community and beyond should be a priority for any breast cancer campaign," stated Downing.
Women of color historically do not get the support they need and are not provided with the information they need to stay healthy until it is too late. Boarding for Breast Cancer (B4BC) is a local non-profit organization that emphasizes the value of keeping a healthy, active lifestyle as the greatest method of breast cancer prevention. They are educating young people about early diagnosis, and offer survivor assistance to families afflicted by this disease. This is why the Dig Pink Club decided to donate to this organization, as announced on Thursday night. 
Downing ended her speech by encouraging the NDB community to be vigilant about taking care of themselves and each other. As an all-girls school, it is essential that NDB continues to lead change in the world of breast cancer awareness.
Leave a Comment
About the Contributor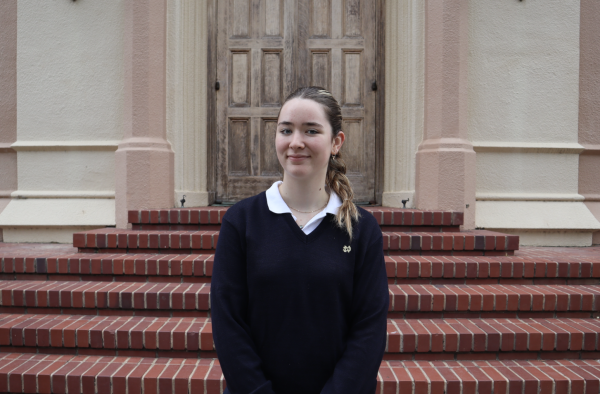 Francesca Arbelaez, Senior Editor
Francesca is a Senior at NDB. This is her third year taking Journalism and she's excited to participate in the Catalyst in the 2023-2024 school year. She...