Taylor Swift's Midnights Preview
On August 28, award-winning artist Taylor Swift announced her new album, "Midnights," a story through sleepless nights and sweet dreams, and its announcement came as a surprise to all. Many thought Swift would release another "Taylor's Version" album (re-released album) since she had already come out with four. Other fans speculated the release of a couple of new songs leading up to something more significant.
At the MTV Video Music Awards (VMAs), Swift had just received the Video of the Year Award when she announced her upcoming album. Her fans were stunned, and she posted more information on her Instagram at midnight. Fans could pre-order CDs and vinyl versions of "Midnights," with four different pictures and colors on each vinyl. The album cover featured Swift with glittery eye makeup and sparking a lighter. These clues gave fans a better glimpse and idea into the highly anticipated album.
While a new album was released officially, many fans still believe she could be releasing a re-recorded version of the album "reputation." Fans seemed to find "easter eggs" throughout the VMAs. One main clue why fans thought she would be re-releasing "reputation" was due to her shimmery attire. At the VMAs, Swift was wearing a silver dress, with a strong resemblance to the dress she wore in the music video for the "reputation" song "Look What You Made Me Do." Even the earrings she wore were an upside-down version of the ones worn in the music video.
While fans articulate new theories and assumptions each day, it will not be until October 21 when supporters find out what Swift's new album "Midnights" really features.
Taylor Swift fan and NDB freshman, Anna Street, acknowledged her love for Swift, "I have been listening to her since I was eight years old and even went to her 'reputation' concert, she brings me so much joy, and I am thrilled about her new album."
Street hopes the album "Midnights" is upbeat and energetic, although she has a feeling it could be more slow and moody like her most recent albums "evermore" and "folklore."
"My favorite album is 'Lover' because it is a perfect mix between lively and melodic, and I hope 'Midnights' will be similar."
After many different approaches, theories, and investigations, fans and supporters are ready for this long-awaited album. Fans believe Swift will either make everyone jump with a glistening, upbeat album or have everyone in their feelings with slower, moody music. All theories will be confirmed on October 21 when "Midnights" by Taylor Swift comes out.
Leave a Comment
About the Contributor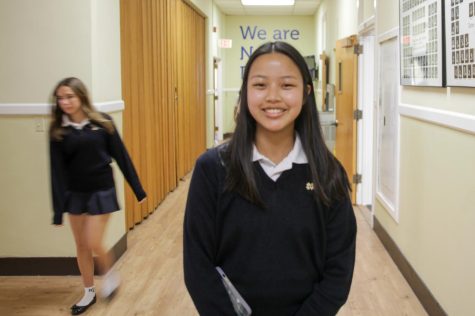 Hannah Nebres, Arts & Life Editor
Hannah is a senior at Notre Dame Belmont, and it is her second year writing for The Catalyst. Her previous involvement in the Journalism Club has interested...