Golf gets into the swing of the season
With the start of school comes the start of fall sports, and golf is no exception. The varsity team of 12 welcomed six new players to their roster, along with their new coach, Douglas Requilman from the Spiritual Life Department.
The team began practicing in early August with practices from Monday to Friday at Mariners Point Golf Center in Foster City. Practices consist of long games at the driving range, along with chipping or putting in the short game area. The team has been preparing for the season ahead by holding consistent weekly practices, as well as making time for games at Sharp Park Golf Course in Pacifica. This allows the athletes to get comfortable playing on the course.
Varsity Golf attended its first match on August 9 at the Burlingame Country Club, originally against Crystal Springs Uplands HS, but due to a scheduling conflict, it was changed to a three-way match against both Crystal Springs Uplands and Castilleja from Palo Alto.
The Tigers lost to Crystal Springs Uplands with a final score of 290 to 227. The team's resilience and sportsmanship shone through as the next match was upcoming. Three days later, on September 1, the team hosted NDSJ at Moffett Field in Mountain View. The Tigers emerged victorious with a 249 to 283 win. The low score can be attributed to junior Savannah Sweet, who finished with two birdies, an eagle and a two-over-par score.
Although golf is an individual sport, the Tigers showed their pride in sportsmanship, and their strength as a team was evident. While golf is not physically intense, the sport is notorious for its mental difficulty.
Unlike team sports, where players perform together and simultaneously, golf relies on each player's individual performance. A player's decisions in team sports like basketball directly affect each teammate and the game moves at a faster pace. However, in golf, the spotlight is fixated on each player and the team does not know how everyone else is playing until the end of the match when each golfer's score is added together.
After playing on NDB's Varsity Basketball team and Varsity Golf team, senior Abby Co compared playing a team sport and an individual sport.
"I think of golf as a team because we practice together. The only difference is, during games, you're on your own. It's you against someone else, and you're not really thinking about anyone else," Co continued. "You want your team to do good, but you're just focusing primarily on yourself… in basketball, you have to focus on the other four people on the team on the court."
Going into the season with these wins and losses has bonded the team and proved their resilience and determination to have a great season. Varsity Golf is looking forward to the rest of its season, and the team hopes to continuously improve their skills and take home new lessons from each match.
Leave a Comment
About the Contributor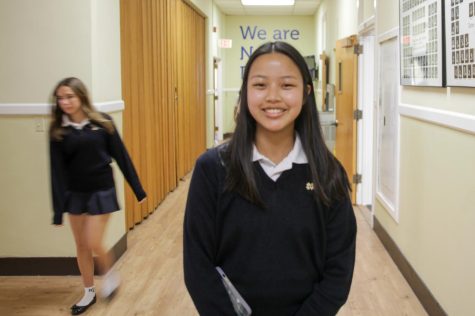 Hannah Nebres, Arts & Life Editor
Hannah is a senior at Notre Dame Belmont, and it is her second year writing for The Catalyst. Her previous involvement in the Journalism Club has interested...