Varsity Volleyball hosts the Tiger Cup tournament
NDB hosted their annual Varsity Tiger Cup tournament on September 17. Teams of all divisions including Mercy HS, Carlmont HS and many others competed in brackets.
The Tigers' first opponent was Moreau Catholic HS from Hayward. NDB's starting lineup consisted of Jessica Ai playing setter, Ciara Mangan and Gia Rivera playing as outside hitters, Paige Lambert and Julia Breckenridge playing middle blockers, Karly Bordin playing right side, and Bella Alvaro playing libero. The game initially began slowly, with NDB behind 11-4. With Rivera's powerful kills and Breckenridge's consistent float serve, the team caught up and eventually pulled ahead of Moreau Catholic HS to win the first set 25-19. The second set finished with NDB's victory with a score of 25-17.
Next, NDB faced off Logan HS from Union City. The tigers carried a lead throughout the first set. Logan put up a good fight, but NDB remained consistent and focused. Logan HS managed to win the match with the third set score being 15-9.
The loss did not discourage the Tigers and they continued to fight in their next game against San Rafael's Marin Academy. While both teams remained back and forth for a while, NDB proved to be stronger and won both sets.
For the fourth and final match, NDB was to oppose their sister school, Mercy HS. Earlier in the week, Mercy HS had won their game against NDB, which seemed to fuel the Tigers' will to win. NDB kept a consistent lead on the opposing team for the entirety of the first set and took the win with a 25-15 score. However, Mercy B came back looking for revenge. The two teams battled for victory in the second set. The final few points were exchanged back and forth until NDB managed to win game point. With a final score of 28-26 in the second set, the Tigers claimed 5th place overall in the Tiger Cup.
"The Tiger Cup allows our team to play against teams we may or may not see during our season," says Varsity Volleyball Assistant Coach Lucky Makropoulos. "Adjusting to opponents is vital for any team's evolution, and the Tiger Cup allowed us to evaluate our strengths and areas of opportunity."
Leave a Comment
About the Contributor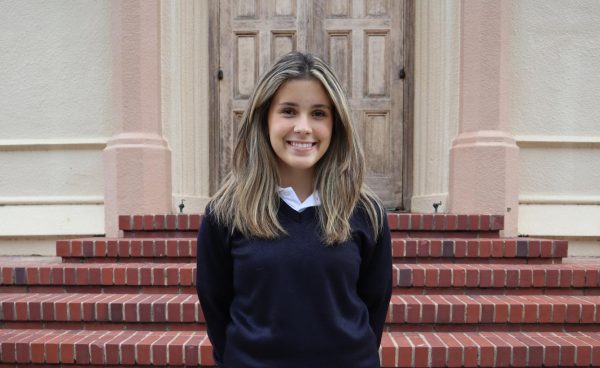 Ashley Turner, Managing Editor
Ashley Turner is part of the Class of 2024 at Notre Dame High School. This is her second year taking the Journalism class and is Managing Editor of the...