California law mandates free menstrual products in public schools
On October 8, 2021, California Governor Gavin Newsom signed legislation AB-367, a law requiring all California public schools and universities to provide free menstrual products in their restrooms for the 2022-2023 academic year onwards. This includes all middle and high schools, community colleges and California State Universities.
This law, formally titled the Menstrual Equity for All Act of 2021, was introduced by California assemblywoman Cristina Garcia. Working in the state Assembly, one of Garcia's main focuses is women's issues, under which this law falls. The inspiration for this legislation came from a 2020 bill passed in Scotland, which made menstrual products free in all public restrooms and facilities across the country.
The Menstrual Equity for All Act builds off of another piece of legislation introduced by Garcia, AB-10. Passed in 2017, this law required public schools in low-income communities with at least 40% of students living in poverty to provide free menstrual products in at least 50% of the school's restrooms. This law only applied to schools serving grades six through 12.
While private middle schools, high schools and universities in California are not included in this specific piece of legislation, it is highly recommended that they follow suit.
"It is really important for all women, or people who experience periods, to be able to have access to free products, especially in times of emergency, need or cases like that," said NDB senior Gabby Wylie-Chaney. "We do have access to [menstrual products] in Mrs. Tauskey's office or in Nurse Bridget's office, but it'd make the school day a lot easier if we had them easily available in the bathroom."
As of 2021, California has also eliminated its tax on menstrual products, which in prior years would add up to an annual profit of about $20 million made off of the tax alone. These products are often taxed as "luxury items," and California joins the list of only nine other US states who have removed this additional charge.
"Men don't have to buy these products, women do," said NDB Student Services coordinator Barbara Tauskey. "And to tax them, for many that are underserved, underemployed or unemployed, it puts a little burden on them because they don't have a choice whether or not to menstruate or not."
Period poverty is the term used to describe the lack of accessibility and affordability for menstrual products, and it is a growing global issue with economic inflation. Globally, 500 million women do not have access to such products.
A survey conducted by Thinx, titled "State of the Period," found that almost 25% of teens aged 13 to 19 in a group of over 1000 struggled or were unable to afford menstrual products within the past year. Many women who live in poverty are forced to choose between buying groceries or menstrual products each month.
"This absolutely should be the norm for all middle schools and high schools," said Hillsdale HS senior Giavana Colangelo. "You should not have to stress about not having things essential to your health, ever. Let alone at school where it can easily be provided."
Leave a Comment
About the Contributor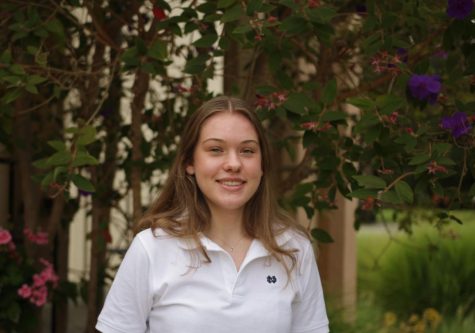 Eva Nichter, News Editor
Eva Nichter is a senior at NDB and is one of the News Editors for the Catalyst. This is her third year as a student writer for the newspaper. In addition...