Kathryn Blanchard begins the school year as a junior class coordinator
Spanish teacher Kathryn Blanchard joined Jonathan Tomczak in leading the Dragons as their class coordinators. With it being her third year working at NDB, she wanted to be more involved and decided to assist Tomczak with the upcoming year. While working closely with the junior class council, Blanchard and Tomczak are planning an exciting year ahead for the class of 2024.
The Catalyst (TC): What made you decide to be the junior class coordinator this year?
Kathryn Blanchard (KB): Above all, because I love the junior class. The Dragons are actually the class that I started at Notre Dame with. And I knew that the class counsel was super strong, really responsible kids and so I was just excited to work with all of them.
TC: What types of events do you have scheduled for the juniors?
KB: The biggest thing that's coming up is the Junior Ring Ceremony, which I've never been to. I'm very excited to see what it's like and I think it's a really cool rite of passage that has been going on for years at lots of different Notre Dame schools. So that's the biggest one in November. Then after that, the council is trying to figure out the other fun things they're going to do. They have lots of great ideas and surprise events for their class.
TC: What do you think the experience of junior year should look like?
KB: The junior year signals the start of more leadership responsibilities around the school because they're now upperclassmen and already have two years of experience. They also have their sister classes that are freshmen. I think sometimes the juniors don't understand how important they are to the freshmen. I teach a lot of freshmen and they talk about their big sisters and they really look up to them. The juniors are representing Notre Dame, taking somebody under their wing and showing them the ropes while also supporting them. I think that's really what happens junior year as they start to become more of leaders. They start to look more ahead and think about 'what I'm going to be after Notre Dame'. The course load gets more challenging, but they also develop a better sense of what they like to do, and start developing a focus of what they might want to study later.
TC: What ideas can you offer to help alleviate the stress that juniors face?
KB: The biggest thing is just take it day by day. Try to focus on what you need to do in the near future, prioritize and remember that you all are wonderful, amazing people. You're all going to find your path. The important thing is just focus on what you love. Trying not to stress too much about the future, it has a way of all working out. So just remember that you're awesome, do the best you can and take it day by day.
TC: What do you remember from your junior year? How is it the same, how is it different?
KB: I do remember that school got harder, with taking APs and also classes got a lot more challenging. From the social aspect, that's when I'd found my close friends and found people to really connect with. My friend group got a little more established and really fun because we had a lot of history together. Also junior year, I remember making new friends. I think that it is an opportunity with different classes where people start to branch out a little more since you already have your close friends. Sadly, I think one thing that's changed is the whole college process wasn't nearly as complicated or overwhelming. So I feel for all the students going through college applications but just remember there's a place for everybody.
TC: What advice would you give the juniors for the year?
KB: My biggest piece of advice is talk to your teachers. They want to help you, so reach out if you need support. Also staying involved and finding things that bring you joy. Be kind to everyone and reach out to people that you think might be having a hard time. There's a lot of incredible people here that could be great friends, if you reach out. Also keeping in mind that it's going to be okay. Focus on today and what you have to do today, then the rest will work itself out.
Leave a Comment
About the Contributor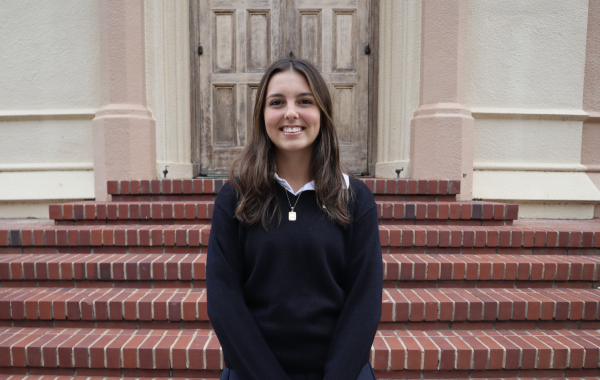 Mia Muzzi, Editor in Chief
Mia Muzzi is a senior at NDB and is in her fourth year of working for The Catalyst. She spent her freshman year as a Staff Writer, then during her sophomore...