From a Wildcat to a Shark: These are the things that I wish I knew as a freshman
Dear Sharks,
Watching your cheerful energy and spirit radiate through the halls inspires me to not give into my senioritis. It is crazy how the years have flown by, and I cannot help but reminisce about my freshman year. The first year of high school is like a trial run. You start to figure out your group of friends, decide what clubs and extracurriculars you want to join, and what leadership opportunities you are interested in. My freshman year, I tried to do it all. Student council, Varsity Pom, Tri-School Musical… Do not let the amount of extracurriculars offered overwhelm you, but let them give you plenty of opportunities to find what makes you come alive.
Trust me, you do not need to have it all figured out. My best advice for you is to be spontaneous and try as much as possible, without overworking yourself. Figure out what piques your interest. High school is a place for self-discovery. Go to that volleyball game, sit at that table with people you do not know, run for student council– you never know what will happen when you seize the opportunity.
I also want to advise never to be afraid to reach out for help. Whether it be from teachers or upperclassmen, self-advocacy is key. Your teachers are there to support you at the beginning of your high school career. Never be afraid to raise your hand or sit in the front.
You may not be as familiar with your classmates right now, but you never know if the Shark sitting across from you will be your lifelong friend. Simply greet them or request to be their partner. They are just as unfamiliar as you are right now, but they might really appreciate a fellow classmate going out of their way to make them feel comfortable.
If you do not have any middle school friends coming into your freshman year at NDB like I did as an incoming freshman, let this be an exciting opportunity for you to find a new group of friends who make you happy. You are destined to meet at least one other student who you share common interests with. Also, just because you are a freshman does not mean that you cannot befriend students from other grade levels. I still keep in touch with the senior I met as a freshman.
After reading these tips, I hope that you can go into your next day of school with a newfound sense of confidence. I am wishing you all of the best at NDB, and for you to fully embrace the beauty of the sisterhood fostered here. No matter what grade level, we all started off as freshmen. Turn this nervousness into excitement because freshman year is the year where it all began! Whether a Wildcat or a Shark, we are all in this together as Tigers.
Leave a Comment
About the Contributors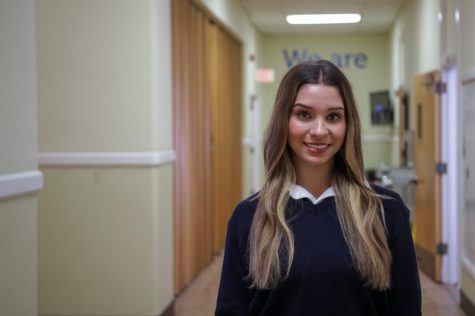 Ava Marinos, Opinion Editor
Ava Marinos is a senior at NDB and is excited for her third year with The Catalyst. She actively participated in the club as a sophomore and junior and...