Q&A with Coachella attendee, Delaney Icard-Cullen
People may know Coachella as the trendy music festival held in the desert featuring many favorite artists. Taking place in a small town in California called Indio, the festival ran over the course of two weeks; April 15-17 and April 22-24. This year, the lineup included Harry Styles, Billie Eilish, Doja Cat, and a bunch of other highly notable performers. The carefree energy from all the attendees and the experience of meeting others with common music interests is what makes Coachella a truly unforgettable experience. The Catalyst interviewed Delaney Icard-Cullen, a junior at NDB and an avid concertgoer, about her experiences at Coachella 2022.
The Catalyst (TC): How difficult was it to shop for Coachella outfits?
Delaney Icard-Cullen (DI): I went to Urban Outfitters and Free People for some cute dresses, shorts, and skirts, so it was not too difficult.
TC: Did you bump into any celebrities in the crowd or see any from afar?
DI: No, but I did hear that the Kardashians were there when I was. There were so many people that it was hard to tell who was a celebrity and who wasn't, especially with masks still on.
TC: Since there was a conflict between prom and one of the several days at Coachella, do you regret missing prom?
DI: This was definitely a harder decision for me to make. I remember my dad telling me that we were going to go to Coachella over my prom, so I had to decide between the two. But right away I knew I wanted to go to Coachella. Next year, though, I'll go to prom over Coachella.
TC: What was the weather like at Coachella?
DI: The first few days were pretty fine. We were in the desert, so it was pretty hot, but it was surprisingly cold at the end of each day. I remember the first night my dad and I agreed on getting a hoodie at the merch booth to keep warm, but the line was a two and a half hour wait so we decided against that and instead biked a short way back to my grandma's house and changed. The last day was very hot so we left early.
TC: Who was your favorite artist, and how would you rate their performance?
DI: I would say Girl in Red was pretty amazing. She was interacting with the crowd and she crowd surfed a couple of times which was fun to watch. I would say that Billie Eilish was also really good and I even got pretty close to her.
TC: Coming out of Coachella, did you have a new favorite artist?
DI: I wouldn't necessarily say I have a new favorite artist but I have a new love for a lot of different artists. One band that I intended on going to see was King Gizzard & the Lizard Wizard. I had seen them before, but they did so much better this time at Coachella and I have a new love for them and their music.
TC: Would you go to Coachella again, and if so, what would you do differently now that you know what to expect?
DI: I would go to Coachella again, not next year, but maybe in five years. I got lucky that I didn't have to camp and I just stayed with my grandma whose house was two blocks away from the whole event, which worked out perfectly. One thing that I did not realize going into Coachella was that it's not like a normal concert. It has a lot more going on and there are tons of people, especially compared to other concerts, so I have to be in a different mindset about it next time I go. Overall, I have no complaints about Coachella.
Leave a Comment
About the Contributor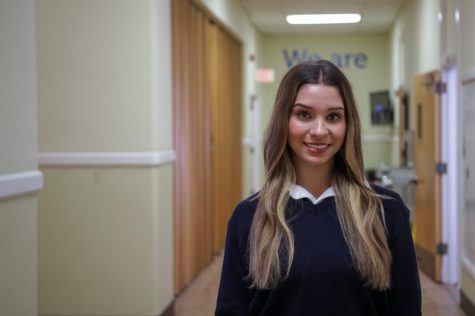 Ava Marinos, Opinion Editor
Ava Marinos is a senior at NDB and is excited for her third year with The Catalyst. She actively participated in the club as a sophomore and junior and...