Bakeries on the local coast
Many students have found that traveling to Half Moon Bay is a fun way to spend their time. However, some students struggle to find fun places to eat while they are visiting.
To start, Pacifica offers some top notch bakeries when in the neighborhood. Mazetti's bakery on Manor Drive has many options when it comes to cookies and cakes. Their most well known and popular item is their Durby Cake. It is a traditional cake with frosting, but with special fruit and layering on the inside.
Also in Pacifica, the traditional StarBread bakery chain also has a popular favorite: Senorita Bread. They offer the original classic flavor and also have special edition flavors, like nutella, strawberry and cream cheese.
Across the highway is Soul Grind. This is a local favorite and always has a line out the door. They have great coffee and also stellar food. Their bakery items are superb, with their New York crumb cake being one of their most in- demand items.
Halfway between Pacifica and Half Moon Bay is a small cafe called Here Comes The Sun. This cafe is along the side of the highway and is known for its welcoming environment and friendly atmosphere. They have a small, but warm interior that is good for studying or just relaxing. They offer some small breakfast snacks, but mostly serve coffee and tea drinks. Although their coffee is not world-changing, the atmosphere makes for a great experience.
Driving along Highway 1 through Princeton Harbor, one encounters Mezza Luna Cafe and Dawn Patrol. Mezza Luna Cafe has fantastic gelato and food, but more desserts rather than baked goods; their tiramisu is legendary. Dawn Patrol also has great drinks and small breakfasts, and their muffins and bear claws are a crowd favorite.
When in downtown Half Moon Bay, there are a larger variety of options. When entering Main Street, Cafe Society is a fun choice to check out. The bright red building is always warm and full of activity. They have many drink options, breakfast and also bakery items like muffins, breads and sweet treats.
Farther along Main Street is Moonside Bakery, Half Moon Bay Coffee Co. and Half Moon Bay Bakery. Half Moon Bay Bakery has the best donuts, sold for only $1, but going to Moonside or Coffee Co. would be better for more substantial snacks. Moonside specializes in their meringues and sweets, while Coffee Co. specializes in more breads and muffin-type items.
Hopefully these recommendations will aid any Bay Area adventures and help Half Moon Bay visitors look like a local when they stop at the good bakeries.
Leave a Comment
About the Contributor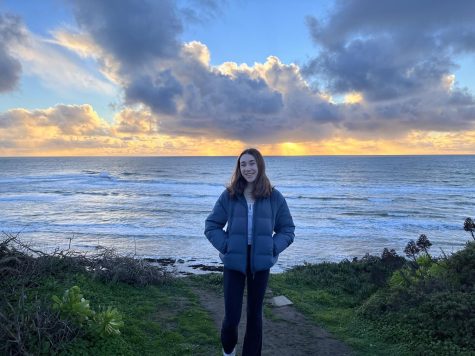 Kayla Messick, Staff Writer
Kayla is a sophomore at Notre Dame High School. She plays volleyball for the school, and is a Staff Writer for the school newspaper.

Kayla loves to...