Senior athletes look back on their last season of HS
As the spring sports season comes to an end, senior athletes take the time to reflect on their past years of playing. The bittersweet feeling that these athletes bear this season has been expressed in numerous ways. Some athletes will go on to play the sport at the collegiate level, whereas for others, this is probably the last season they will ever play.
Seniors feel an extra amount of joy and sadness as the final sports season of the school year comes to a close. Each sports team has a senior night to celebrate their graduating athletes' final moments of the season before going to college.
Looking back on the seasons that they have played, the seniors remember favorite memories, friends made, and the love of the sport.
"The most exciting part of this season was all of our practices," said senior Christina Carroll. "I love going to practice and getting to hang out with all of my close friends. It is always so fun and something I look forward to."
Carroll, like many other senior athletes, enjoyed her high school sports and left behind some advice for new members of NDB's track and field program.
"As I look back, I would tell students wanting to run track to go for it. There is an event for everyone and it is so much fun," continued Carroll.
Senior Sabrina Senhaji also reflected on their final season of lacrosse and gave advice to younger athletes.
"
I would really recommend learning how to manage your time the best you can."
— Sabrina Senhaji
"I would say that it's a commitment and it takes time. I would really recommend learning how to manage your time the best you can. I also would encourage anyone wanting to try lacrosse to at least try it, cause the team energy is amazing," shared Senhaji.
This spring season has been one for the books. From beach volleyball to swim, lacrosse to track and field, and softball, the seniors have been able to experience their spring sport in an exciting way. The Spartans are elated to be celebrating their final high school sports moments but are saddened by the idea of leaving it behind.
In the end, every senior athlete has been extremely grateful for the time that they have had on the team and is excited for the next steps in their journey. While some plan on continuing their sport at the club level or collegiate, some are leaving it all behind in their high school career. The seniors would like to thank their coaches, mentors, and all others who helped them grow and succeed in their sport over the years.
Leave a Comment
About the Contributor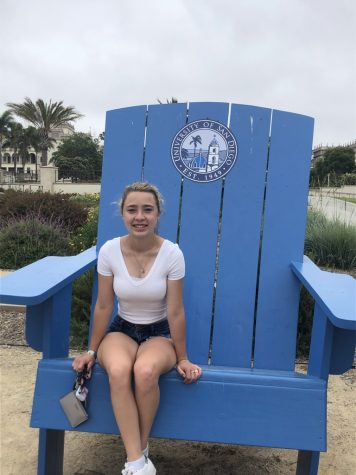 Emma Boyd, Staff Writer
Emma is a senior at Notre Dame and a new staff writer for The Catalyst.

In the next three years, Emma hopes to graduate high school and attend college...