Varsity soccer kicks off their season
Soccer, one of NDB's winter sports, began tryouts the week of November 8 and had their first game on November 23. The varsity team has a few key players out due to injuries but still plans to have a great season with many new athletes on the team. 
The soccer season typically lasts four to five months, beginning in November and often stretching out until April depending on how the WBAL League Championship game goes and if the team makes it to CCS. 
The varsity team's captains are chosen by Head Coach Paul McCallion and Assistant Coach Dave Heuer. This year, Makena Conneely and Catherine McGuire are the senior captains and Stella Affrunti is the junior captain. Unfortunately, two of the three captains, Conneely and Affrunti, have been injured and are unable to play for the time being. 
"We both tore our ACL," Affrunti explained. "We're still totally incorporated into the team and our coach wants us to come to everything and is so supportive."
The team also lost a number of excellent players over the past few years because they graduated. Additionally, a number of the returning varsity players have not begun their NDB season because the club soccer season has not ended yet. This means that until they have recovered their usual players, the team must rely primarily on new members. 
"There's definitely talent in the new players," said senior Ella Giguere. "So we have a whole new team it feels like, but they look good."
Leadership on the team is an essential aspect of soccer, and even more so when the team's underclassmen have not had a normal soccer season at NDB yet. 
"I think that our leadership, both in students and coaches, is very strong," senior Elle Rau said. "And I think that will become really, really important once the season gets going if we want to win league [games] and big championships."
As a winter sport, soccer runs through both Thanksgiving break and winter break. Thanksgiving break came not long after the start of the season, so coaches are more lenient when it comes to athletes traveling. Winter break, however, comes when the team has already had numerous games and is nearing the height of the season. 
"
I think our biggest strengths, honestly, are just kind of bonding with each other and understanding each other"
— Stella Affrunti
"When it gets to winter break, then [soccer practice] is usually not mandatory," Rau said. "But it is strongly advised that we do not travel, at least very far."
As the season advances, the NDB soccer team is looking forward to building their team up again and staying strong throughout the winter season in order to perform well in their league and advance to championships towards the spring. 
The team forms incredibly strong bonds with each other throughout the winter season. Soccer's ability to provide lasting friendships often draws athletes into the sport, but it also is important to winning games. Teamwork is essential, as any soccer player can tell you. A team that knows how to highlight one another's strengths will play well in games. 
"I think our biggest strengths, honestly, are just kind of bonding with each other and understanding each other," Affrunti said. "I think that really helps us then with our performance on the field."
Leave a Comment
About the Contributor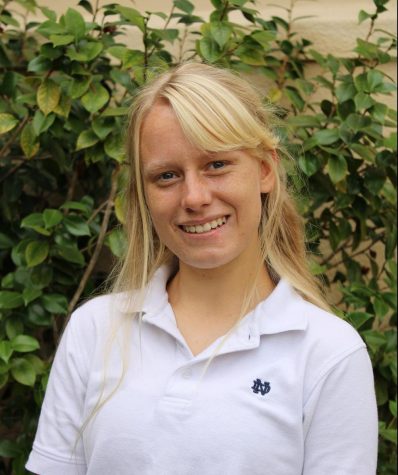 Clair Sapilewski, Managing Editor


Clair Sapilewski is the Managing Editor and is in Journalism II this year. This is her third year writing articles for The NDB Catalyst.

She...