Tennis Feature with Marra Riitters
Mara Riitters, a senior and NDB varsity tennis player was able to sit down with the catalyst and answer a few questions about her tennis career.
Riitters started playing tennis far before she came to NDB, "I was really young, like, maybe like third grade and then I took some, like breaks over the years but, you know, I've always just kind of played."
She began tennis because both her parents played high school tennis, as well as her sister.
When asked what originally inspired her to learn the sport she said, "My mom kind of, and my sister, because they both played, and my mom has been playing throughout since high school and my dad played in high school too, so it just kind of thought it'd be good for me to play too."
As a freshman, she began playing tennis for NDB, after one year on JV, she moved up to varsity her sophomore year.
"I feel like when I started, tennis, it was just kind of more focused on like individual stuff, but then once I did, tennis for Notre Dame, I feel like I really got to experience being on a team and I feel like that was really fun just like the camaraderie," Riitters continued.
Now into her final season of playing for NDB, she is very involved in the team, "I'm a captain this year and I'm a senior and it's my third year on varsity so I'm really, I was excited this year to just kind of take on more of a leadership role."
Riitters, along with two of her teammates Kyra Green and Nikka Ahani are the three co-captains of the team this year.
When asked if she saw herself becoming a captain of the team she said, "Yeah, there were only two sophomores on varsity when I was a sophomore. So, me and another girl, Kira, are now captains so having the ability to play like a higher level from, like, being a sophomore led me to it."
"
Once I did, tennis for Notre Dame, I feel like I really got to experience being on a team."
— Mara Riitters
Her favorite memory from her time playing tennis was this year in a tournament, "we had a tournament in Clovis, and we had that two years ago, but it's really just fun to go this year because there's like nine seniors on teams is really fun to celebrate with them for our last year last year of playing"
She hopes to continue playing tennis with friends and family after she graduates NDB.
Leave a Comment
About the Contributor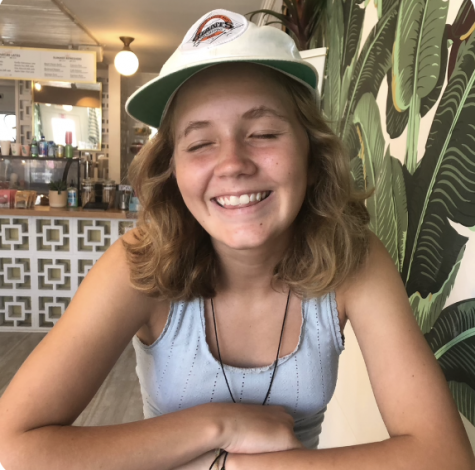 Emma Callicott, Sports Co-Editor
Emma Callicott is a Sophomore at NDB. This is her second year taking journalism and she is very excited to grow as a journalist. She can't wait to write...