September is National Suicide Prevention Month
September 1st marked the start of Suicide Prevention Month.
In previous years, NDB has shown their support by leaving notes on everyone's lockers and making sure staff is extra supportive. There have been wristbands handed out, showing support for those struggling and even entire spirit weeks dedicated to mental health.
Suicide is one of the highest leading causes of death in the US. In 2019, about 12 million Americans seriously contemplated suicide.
Even given these high numbers, mental health is still a taboo subject. Champion tennis player Naomi Osaka was slammed on the internet after dropping out of the French Open due to mental health related issues. Simone Biles also was criticized when she dropped out from several events on the women's gymnastics team in the Tokyo Olympics this past summer due to mental health issues.
TV shows have also tried to touch on mental health issues and their severity. The British show "Skins" has been talking about mental health and eating disorders since 2007. Most notably, "13 Reasons Why" gave adults a look into the life of teens struggling with mental health issues.
The world still doesn't understand the severity of mental health and the consequences poor mental health can have. This is why awareness of the subject is so important.
"I believe that suicide prevention should not be just a month of awareness," junior Delaney Icard Cullen said. "Instead be reminded that this is a real problem among high schoolers and young people all over the place, and we should not only be aware of suicide prevention during the month of September, but instead year round."
It can sometimes be quite difficult to know how to support someone  who is struggling with mental health. Try to be compassionate and kind.
Often people can be struggling in a way that it can be hard to communicate, so be as understanding and open as possible. Also, do not be afraid to get professionals involved if you feel it's necessary. Do not wait until it's too late.
"
Don't make suicide jokes, they just are not funny"
— Desea Bond
Don't make suicide jokes, they just are not funny. The key is to accept that depression is a real illness and does not at all equal being sad once in a while. If you're still not sure what to do, educate yourself. Research the Happiness Project or the American Foundation of Suicide Prevention, or, speak to someone you know who has gone through these struggles before. Remember to be as helpful as you can.
NDB is doing its part to try to support its students. The counselors' offices are always open to students if they need help. There is a moment of silence in morning announcements to acknowledge everyone's mental health journey.
In the past, NDB had a Health and Wellness board that participated in bringing attention to this month. For example, in 2019, post-it notes with positive messages were posted on student lockers as a small way to make everyone feel supported.
Leave a Comment
About the Contributors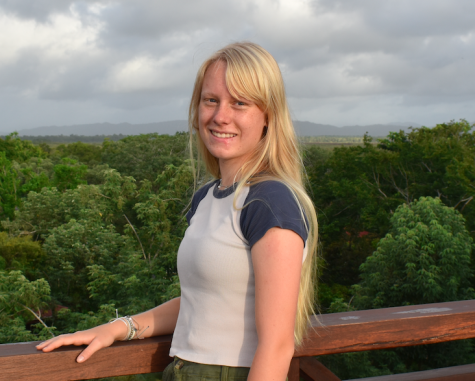 Clair Sapilewski, Managing Editor


Clair Sapilewski is currently the Managing Editor for the NDB Catalyst and this is her second year writing articles. She is looking forward to...