NDB Cheer: Q&A with Kristen Carpio
The Catalyst interviewed senior Kristen Carpio about her experience wrapping her four years on the NDB varsity sideline cheer team during the pandemic.
The Catalyst (TC): How has your cheer season been so far?
Kristen Carpio (KC): So it's already ended and I think it was definitely a struggle, I'd say because we weren't able to do a lot of things.
TC: How did COVID affect your season?
KC: We were just pretty limited since stunting is like a huge part of what we do as a cheer team compared to pom who does a lot of dances and stuff. So, we actually weren't able to stunt at all this year. So we were kind of just doing cheers for game day, and other conditioning and stuff like that, but we weren't actually able to do [more of] the fun stuff. It's definitely a struggle to still be involved and be interested. Other than that I think it was definitely fun, it was nice just to be able to see each other and still have that community. It was hard definitely in the beginning, but it was still nice having people to count on, so even though we weren't doing anything super big anymore, it was still fun.
TC: Will you be continuing cheer after high school?
KC: I think I might try out, maybe, but it is not something I am super super interested in.
TC: What was your favorite part of the season?
KC: Probably our one and only football game that we had. It was really nice just to be back at Serra and cheering on the crowd that we did have, like parents and other guests. It was nice to have that fun aspect of cheer back because again, we had just been doing practices and conditioning [for the whole season].
TC: Has the COVID pandemic affected your team dynamic?
KC: I do definitely think so just because when we're in person, we're able to get to know each other a lot more usually, we have a big-little system, and that didn't happen this year. So I definitely think there was kind of a divide in our team, not a super strong divide, but you could definitely tell. So, [the pandemic] definitely affected it in that way on how we communicate. Or I guess like everybody knowing each other, because normally we get to know people from all grades. But definitely as a senior I tried reaching out, but it was kind of hard establishing those connections, since we wanted to have a lot of practices, and we didn't have that big-little system.
Leave a Comment
About the Contributor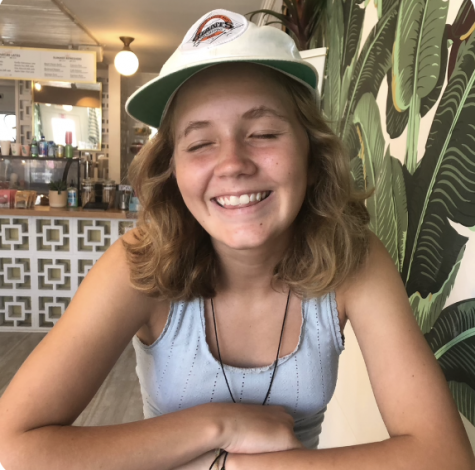 Emma Callicott, Sports Co-Editor
Emma Callicott is a Sophomore at NDB. This is her second year taking journalism and she is very excited to grow as a journalist. She can't wait to write...