The graduating class of COVID-19
As the Class of 2021 reaches the end of its time here at NDB, each of its members can confidently say that they have experienced high school in a way like no other. The class began in complete and total normalcy, yet ended in the middle of a global pandemic.
In August 2017, the Knights walked into NDB fresh out of middle school, with excitement and anticipation for what freshman year would bring. They triumphed through the typical freshman struggles: Managing coursework, finding clubs and extracurricular activities to join, and establishing solid relationships with classmates.
Despite their new affiliation with NDB, the Knights were never shy to show their pride. They placed third in Aquacades, NDB's biggest annual spirit event, beating out the then-sophomore Gators. The victory was led by Freshman Class President Mia Adao, as well the rest of the Freshman Class Council.
The following year, the Knights moved into their sophomoric status with grace and confidence. By this point, they had settled into NDB with ease and no longer felt like the new kids on-the-block. Mia Adao continued her reign in student council while serving as the Sophomore Class President, and always ensured that the Knights were nothing short of spirited.
Not only did they excel in school, but they also improved their Aquacades standing—the sophomores landed in second place after a long night of incredible swim and deck routines. The Knights beat out the junior Gators and the freshman Spartans, falling just behind their sister class, the senior Titans.
The first semester of their junior year was beautifully normal. The Knights embraced their new sisters in the freshman class and gave them an incredibly warm welcome through sister class bonding activities. They also celebrated their positions as upperclassmen with the Junior Ring Ceremony held in early November, surrounded by the support of family and friends in the NDNU Chapel. Junior Class President Olivia Pera dedicated a speech to the Knights, showing her love and support for the entire class during the ceremony.
In March of 2020, every NDB class, extracurricular activity, and sport moved onto a virtual platform due to the COVID-19 pandemic. The Knights became all-too-familiar with Zoom, and unfortunately had to miss out on exciting festivities like Aquacades and their first Prom.
Senior year began in the same virtual format introduced in the previous year, but the Knights made the most of it. They gathered in weekly class meetings conducted every Wednesday, college meetings with Mrs. Cunha, and in Zoom classes everyday.
But as COVID conditions began to improve, the Knights were finally able to return to school in a Hybrid model and enjoy their senior year in-person. Senior Class President Ashlin O'Riordan kept the spirit alive through reminders to dress up for Spirit Week and to come to the senior-only Aquacades premiere in Father Downey Garden.
Since Aquacades 2021 was pre-filmed, there was no official winner, but the Knights know that the grand prize really went to them. "Our class is very spirited, even during COVID," said ASB President Olivia Pera, who led the way in coordinating this year's Aquacades. "I think that the people in our class have done a great job of getting excited about spirit days and encouraging others to participate as well. We've helped to make school spirit 'cool', which has allowed more people to feel comfortable just having fun and supporting our fellow Knights."
Pera went on to comment on the Knights' true sisterhood. "Our class is quite supportive of one another," said Pera. "People in our class make an active effort to really support each other in our various endeavours and I truly love that."
Finally, Pera left some parting words for the entire NDB student body before her final departure from the position of ASB President. "Thank you for letting me be your student council president, both on ASB and during junior year," she continued. "I have thoroughly enjoyed my time on student council and have had a blast working for and with all of you. I wish everyone the best of luck in whatever they may do, but I know that you will do amazing in whatever you strive to accomplish."
The Knights have demonstrated nothing but incredible strength, resilience and positivity. They have truly embodied the meaning of NDB sisterhood, through embracing one another with constant love, empathy and encouragement. Our seniors have completely transformed from scared kids into confident young women over the course of the past four years. As they graduate, they should feel immense pride for everything they have accomplished during their time here at NDB, and should look forward to everything they will accomplish in college and beyond.
Leave a Comment
About the Contributor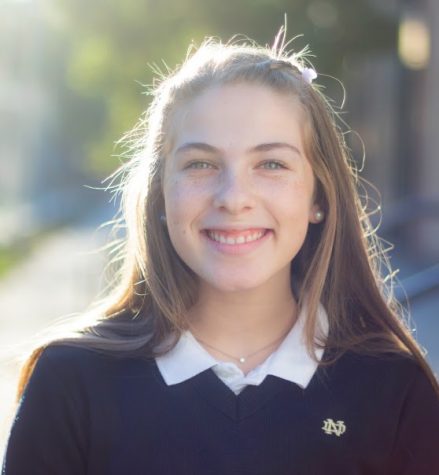 Amelia Kyle, Editor-in-Chief
Amelia has been a member of The Catalyst staff since 2018. She served as the co-editor of the Arts & Life section from 2018-2019, Managing Editor from...