Basketball season begins
The NDB basketball teams began their season with their first games this month. On Saturday, April 17 both Varsity and JV played against Westmont High School. This was the first game for JV but Varsity had their first game and won on Thursday, April 15th. Varsity also won on Saturday April 17th with their game at 3 p.m at NDB. On Saturday JV's game was at 1 p.m. A new change in the season this year is that there is no freshman team.
"Finding out that we were going to have a season this year was probably the best news I've heard in a while. Stepping back onto the court and playing basketball again was something I had truly missed," said senior varsity basketball player Mia Adao. "It's sad that it's my last season, but being part of such a special team and group of people has been the highest honor, and I'm so glad we were able to play together before I leave [for college]."
With two wins to start off the season, the varsity basketball team is off to a successful start. Along with Adao, varsity player Monique Samson provided her feelings about the varsity team's win from April 17th.
"We started off pretty slow, considering we had a game on Thursday," said sophomore Monique Samson. "But, after the second half I think we really picked it up, and we won by over 20 points so it was a really good game for the team."
Despite the great start of the basketball season, there have been some challenges due to the new protocols for the season.
"Wearing a mask is really hard during practices and games, especially during games we can't really hear each other, and it's really hard to communicate with their players," said Samson. "Sometimes there's miscommunications on the court because of it, and a lot of the team gets tired faster."
The NDB JV basketball team experienced a loss against Westmont High School by only 7 points. Despite the loss, the players are continuing to work even harder for their upcoming games.
"I feel really grateful to be able to play basketball during COVID-19. I know many schools were only able to have one basketball team, and some [schools] don't have any [teams]," said sophomore Sienna Loar. "Being able to play basketball has brought back some sense of normality in my life, and it allows me to socialize safely with my friends."
Fortunately, basketball and other sports in person at NDB have given a chance for students to get involved in sports again after the hiatus due to COVID-19. The tigers are happy to be playing again and be with their teammates and have that community feel.
"Wearing masks while practicing and playing has been challenging this season. It's hard to hear each other on the court, which sometimes leads to miscommunications," said Loar. "In addition, the masks make people more tired. It's especially hard for me to wear a mask and play since I have asthma."
These players demonstrated an important attitude which NDB focuses on which is to be grateful and cherish the opportunity to play again and stay positive. Despite negatives, such as challenges with wearing a mask or not winning a game, they give more attention to the good parts of the game and do not let the hardships stop them from enjoying their experience.
"I think our team is a lot stronger this year than last year, because I think the bond we have off the court is a lot better," said Samson. "I think that as long as our team continues to believe in each other and to just kind of support each other that it'll go pretty well."
About the Writer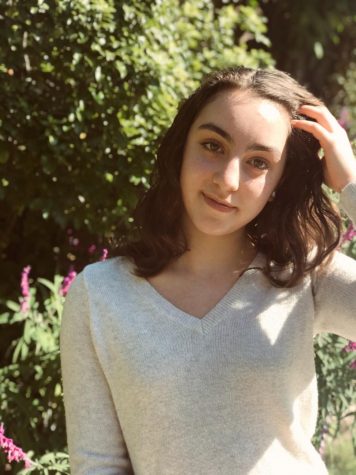 Anna Sanguinetti, Staff Writer
Anna Sanguinetti is a Senior at Notre Dame High School during the 2020-2021 school year. This is her first year as a staff writer for the school newspaper,...